Last Updated on September 2, 2023 by Scott Shetler
The late Sinead O'Connor never performed her signature hit "Nothing Compares 2 U" at the Grammy Awards, because she famously boycotted the ceremony.
But she did perform the song at the 1990 MTV Video Music Awards, and it stands as one of the most noteworthy live performances of her career.
This performance is often forgotten due to the other controversies in her career. Sinead not only performed at the VMAs, but took home a couple of awards that night as well.
Let's recap Sinead's big win and her moment on stage.
The Live Performance of 'Nothing Compares 2 U'
O'Connor's performance on the show was introduced by host Arsenio Hall, who referred to her as "that cute little lady with the bald head."
She took the stage with a full band, wearing a long dress with boots. She slowed the song down a bit, turning the ballad into a 5-minute performance.
Sinead appeared to have problems with her in-ear monitors, but powered through and delivered a memorable performance.
Her voice alternated between breathy whispers and powerful belts, and she occasionally bopped around the stage during the instrumental sections. She added an extended outro section to close the song.
It was raw and unpolished. Sometimes the sound quality was affected when she screamed a little too loud into the microphone. But she conveyed all the emotion present in the Prince-penned lyrics.
O'Connor Wins Three VMAs
"Nothing Compares 2 U" won Best Female Video and Best Post Modern Video, a forerunner to the Best Alternative category. It also made Sinead the first woman to win Video of the Year at the VMAs.
Upon accepting her first award of the evening, O'Connor said, "I don't really know what to say, because nothing like this has ever happened to me before. Peace, and thank you."
Later, Cher presented her with Video of the Year, and she was ecstatic, which was quite a different reaction from how she'd react to award show recognition just a few months later.
She thanked numerous people in her speech, including Prince. O'Connor went on to make reference to the controversy over rappers 2 Live Crew having their album banned, saying, "Censorship in any form is bad, but when it's racism disguised as censorship, it's even worse."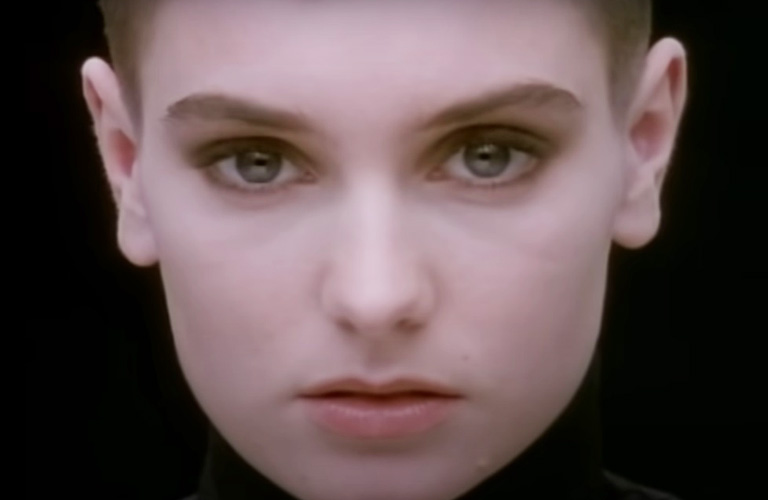 Sinead O'Connor's Grammy Boycott
A few months after her VMA triumph, O'Connor famously boycotted the 1991 Grammys, denying them a chance to see her perform "Nothing Compares 2 U," which was nominated for Record of the Year, Female Pop Vocal Performance, and Best Music Video.
She put out statements that she couldn't bring herself to celebrate musical competition, especially with the Gulf War in Iraq going on.
"As artists I believe our function is to express the feelings of the human race–to always speak the truth and never keep it hidden even though we are operating in a world which does not like the sound of the truth," she said. "I believe that our purpose is to inspire and, in some way, guide and heal the human race, of which we are all equal members."
O'Connor had already performed at the Grammys once, in 1989, when she sang "Mandinka" from her debut album. But she would never appear on the Grammy stage again.
Despite the boycott, her album I Do Not Want What I Haven't Got won the Grammy for Best Alternative Music Album in the first year of the category's existence, beating out Kate Bush and the Replacements.
Vernon Reid of hard rock band Living Colour wore a tshirt with O'Connor's face on it as a way to show solidarity with her boycott.