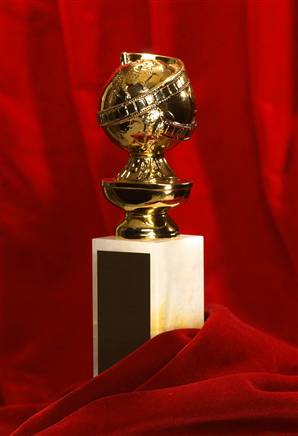 Taylor Swift, Adele, Jon Bon Jovi and Keith Urban lead a star-studded field of nominees for Best Original Song at the 2013 Golden Globe Awards. Which artist gets our prediction? Read on to find out…
Adele's "Skyfall" appeared in the James Bond movie of the same name and earned the singer her first Globe nod. Urban is a contender for "For You" from the film Act of Valor.
Swift and country duo the Civil Wars are the most deserving winner here, for their beautiful ballad "Safe & Sound" from The Hunger Games.  That song just earned a nomination for Best Song Written for a Motion Picture at the Grammy Awards.
Bon Jovi's "Not Running Anymore," from Stand Up Guys, could earn the singer his second win in this category. Bon Jovi already has a Golden Globe to his credit when "Blaze of Glory" captured the 1990 trophy for Best Original Song. The final nominee is the Les Miserables song "Suddenly," written by Claude Michael Schonberg.
The Globes are sometimes a preview of the Academy Awards, which bodes well for Adele and Swift. But that's not always the case. Last year's Golden Globe winner for Best Original Song went to Madonna for "Masterpiece," which was anything but. In fact, a whopping seven of the last eight Globe winners for Best Song failed to earn an Oscar nod for the same category.
The 2013 Golden Globes air on January 13 on NBC and will be hosted by comedic queens Amy Poehler and Tina Fey. Which song gets our prediction? It's a tough call, but we think that Adele's unstoppable award show appeal will continue. We predict she will take home the Golden Globe (and perhaps the Oscar as well.)
2013 Golden Globes Best Original Song Nominations:
"For You" by Keith Urban (Keith Urban & Michael McDevitt, songwriters) – Act of Valor
"Not Running Anymore" by Jon Bon Jovi (Jon Bon Jovi, songwriter) – Stand Up Guys
"Safe & Sound" by Taylor Swift and The Civil Wars (Taylor Swift, T-Bone Burnett and the Civil Wars, songwriters) – The Hunger Games
"Skyfall" by Adele (Adele & Paul Epworth, songwriters) – Skyfall*
"Suddenly" by Hugh Jackman (Claude Michael Schonberg, songwriter) – Les Miserables
*our predicted winner
Leave a comment!