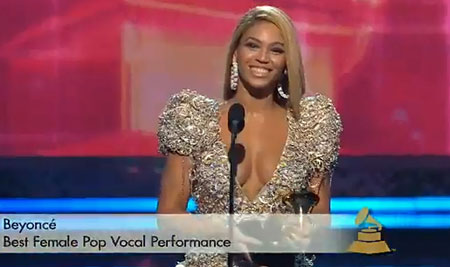 Note: This award was discontinued in 2012, when the Best Female Pop Vocal Performance award was merged with Best Male Pop Vocal Performance into a new award called Best Pop Solo Performance.
Most career Best Female Pop Vocal Performance nominations:
Barbra Streisand 12
Mariah Carey 8
Linda Ronstadt 8
Peggy Lee 8
Dionne Warwick 7
Most career Best Female Pop Vocal Performance wins:
Barbra Streisand 5
Ella Fitzgerald 4
Dionne Warwick 3
Whitney Houston 3
Best Female Pop Vocal Performance Winners and Nominees
Winners in bold; other nominees listed beneath.
2011: Bad Romance, Lady Gaga
King of Anything, Sara Bareilles
Halo (Live), Beyonce
Chasing Pirates, Norah Jones
Teenage Dream, Katy Perry
2010: Halo, Beyonce
Hometown Glory, Adele
Hot n Cold, Katy Perry
Sober, Pink
You Belong With Me, Taylor Swift
2009: Chasing Pavements, Adele
Love Song, Sara Bareilles
Mercy, Duffy
Bleeding Love, Leona Lewis
I Kissed a Girl, Katy Perry
So What, Pink
2008: Rehab, Amy Winehouse
Candyman, Christina Aguilera
1,2,3,4, Feist
Big Girls Don't Cry, Fergie
Say It Right, Nelly Furtado
2007: Ain't No Other Man, Christina Aguilera
Unwritten, Natasha Bedingfield
You Can Close Your Eyes, Sheryl Crow
Stupid Girls, Pink
Black Horse and the Cherry Tree, KT Tunstall
2006: Since U Been Gone, Kelly Clarkson
It's Like That, Mariah Carey
Good is Good, Sheryl Crow
I Will Not Be Broken, Bonnie Raitt
Hollaback Girl, Gwen Stefani
2005: Sunrise, Norah Jones
Oceania, Bjork
The First Cut is the Deepest, Sheryl Crow
What You Waiting For?, Gwen Stefani
You Had Me, Joss Stone
2004: Beautiful, Christina Aguilera
Miss Independent, Kelly Clarkson
White Flag, Dido
I'm With You, Avril Lavigne
Fallen, Sarah McLachlan
2003: Don't Know Why, Norah Jones
Soak Up the Sun, Sheryl Crow
Complicated, Avril Lavigne
Get the Party Started, Pink
Overprotected, Britney Spears
2002: I'm Like a Bird, Nelly Furtado
There You'll Be, Faith Hill
Someone to Call My Lover, Janet Jackson
By Your Side, Sade
Essence, Lucinda Williams
2001: I Try, Macy Gray
What a Girl Wants, Christina Aguilera
Music, Madonna
Save Me, Aimee Mann
Both Sides Now, Joni Mitchell
Oops!…I Did it Again, Britney Spears
2000: I Will Remember You (Live), Sarah McLachlan
Genie in a Bottle, Christina Aguilera
Beautiful Stranger, Madonna
Thank U, Alanis Morissette
…Baby One More Time, Britney Spears
1999: My Heart Will Go On, Celine Dion
My Favorite Mistake, Sheryl Crow
Can't Take Me Eyes Off You, Lauryn Hill
Torn, Natalie Imbruglia
Adia, Sarah McLachlan
1998: Building a Mystery, Sarah McLachlan
Butterfly, Mariah Carey
Where Have All the Cowboys Gone?, Paula Cole
Sunny Came Home, Shawn Colvin
Foolish Games, Jewel
1997: Un-Break My Heart, Toni Braxton
Get Out of This House, Shawn Colvin
Because You Loved Me, Celine Dion
Reach, Gloria Estefan
Who Will Save Your Soul, Jewel
1996: No More I Love You's, Annie Lennox
Fantasy, Mariah Carey
I Know, Dionne Farris
One of Us, Joan Osborne
You Got It, Bonnie Raitt
Colors of the Wind, Vanessa Williams
1995: All I Wanna Do, Sheryl Crow
Hero, Mariah Carey
The Power of Love, Celine Dion
Longing in Their Hearts, Bonnie Raitt
Ordinary Miracles, Barbra Streisand
1994: I Will Always Love You, Whitney Houston
Dreamlover, Mariah Carey
I Don't Know Why, Shawn Colvin
Miss Chatelaine, k.d. lang
I Don't Wanna Fight, Tina Turner
1993: Constant Craving, k.d. lang
MTV Unplugged, Mariah Carey
Celine Dion, Celine Dion
Diva, Annie Lennox
Save the Best for Last, Vanessa Williams
1992: Something to Talk About, Bonnie Raitt
Emotions, Mariah Carey
Get Here, Oleta Adams
Baby Baby, Amy Grant
All the Man That I Need, Whitney Houston
1991: Vision of Love, Mariah Carey
I'm Your Baby Tonight, Whitney Houston
From a Distance, Bette Midler
Nothing Compares 2 U, Sinead O'Connor
All Around the World, Lisa Stansfield
1990: Nick of Time, Bonnie Raitt
Straight Up, Paula Abdul
Don't Wanna Lose You, Gloria Estefan
Wind Beneath My Wings, Bette Midler
Cry Like a Rainstorm, Howl Like the Wind, Linda Ronstadt
1989: Fast Car, Tracy Chapman
Tell It to My Heart, Taylor Dayne
One Moment in Time, Whitney Houston
Chalk Mark in a Rainstorm, Joni Mitchell
Get Here, Brenda Russell
1988: I Wanna Dance With Somebody, Whitney Houston
Heaven is a Place on Earth, Belinda Carlisle
Coming Around Again, Carly Simon
One Voice, Barbra Streisand
Luka, Suzanne Vega
1987: The Broadway Album, Barbra Streisand
True Colors, Cyndi Lauper
Papa Don't Preach, Madonna
Typical Male, Tina Turner
Dionne and Friends, Dionne Warwick
1986: Saving All My Love for You, Whitney Houston
We Belong, Pat Benatar
Crazy for You, Madonna
Lush Life, Linda Ronstadt
We Don't Need Another Hero, Tina Turner
1985: What's Love Got to Do With It, Tina Turner
The Glamorous Life, Sheila E.
Strut, Sheena Easton
Girls Just Want to Have Fun, Cyndi Lauper
Let's Hear it for the Boy, Deniece Williams
1984: Flashdance…What a Feeling, Irene Cara
Telefone (Long Distance Love Affair), Sheena Easton
What's New, Linda Ronstadt
She Works Hard for the Money, Donna Summer
Total Eclipse of the Heart, Bonnie Tyler
1983: You Should Hear How She Talks About You, Melissa Manchester
Gloria, Laura Branigan
Love's Been a Little Bit Hard on Me, Juice Newton
Heart Attack, Olivia Newton-John
Get Closer, Linda Ronstadt
1982: Lena Horne: The Lady and Her Music, Lena Horner
Bette Davis Eyes, Kim Carnes
For Your Eyes Only, Sheena Easton
Angel of the Morning, Juice Newton
Physical, Olivia Newton-John
1981: The Rose, Bette Midler
Fame, Irene Cara
Magic, Olivia Newton-John
Woman in Love, Barbra Streisand
On the Radio, Donna Summer
1980: I'll Never Love This Way Again, Dionne Warwick
I Will Survive, Gloria Gaynor
Chuck E's in Love, Rickie Lee Jones
Don't Cry Out Loud, Melissa Manchester
Bad Girls, Donna Summer
1979: You Needed Me, Anne Murray
Hopelessly Devoted to Me, Olivia Newton-John
You Belong to Me, Carly Simon
You Don't Bring Me Flowers, Barbra Streisand
MacArthur Park, Donna Summer
1978: Evergreen, Barbra Streisand
You Light Up My Life, Debby Boone
Here You Come Again, Dolly Parton
Blue Bayou, Linda Ronstadt
Nobody Does it Better, Carly Simon
1977: Hasten Down the Wind, Linda Ronstadt
Natalie, Natalie Cole
Here, There and Everywhere, Emmylou Harris
The Hissing of Summer Lawns, Joni Mitchell
Turn the Beat Around, Vicki Sue Robinson
1976: At Seventeen, Janis Ian
Send in the Clowns, Judy Collins
Have You Never Been Mellow, Olivia Newton-John
Ain't No Way to Treat a Lady, Helen Reddy
Heart Like a Wheel, Linda Ronstadt
1975: I Honestly Love You, Olivia Newton-John
Feel Like Makin' Love, Roberta Flack
Jazzman, Carole King
Cleo Laine Live at Carnegie Hall
Court and Spark, Joni Mitchell
1974: Killing Me Softly With His Song, Roberta Flack
Boogie Woogie Bugle Boy, Bette Midler
Danny's Song, Anne Murray
Touch Me in the Morning, Diana Ross
You're So Vain, Carly Simon
1973: I Am Woman, Helen Reddy
Quiet Fire, Roberta Flack
Day Dreaming, Aretha Franklin
Anticipation, Carly Simon
Sweet Inspiration/Where You Lead, Barbra Streisand
1972: Tapestry, Carole King
The Night They Drove Old Dixie Down, Joan Baez
Gypsys, Tramps & Thieves, Cher
Me and Bobby McGee, Janis Joplin
That's the Way I've Always Heard It Should Be, Carly Simon
1971: I'll Never Fall in Love Again, Dionne Warwick
Fancy, Bobbie Gentry
Snowbird, Anne Murray
Long, Long Time, Linda Ronstadt
Ain't No Mountain High Enough, Diana Ross
1970: Is That All There Is?, Peggy Lee
With Pen in Hand, Vikki Carr
Put a Little Love in Your Heart, Jackie DeShannon
Johnny One Time, Brenda Lee
Son of a Preacher Man, Dusty Springfield
This Girl's in Love With You, Dionne Warwick
1969: Do You Know the Way to San Jose, Dionne Warwick
I Say a Little Prayer, Aretha Franklin
Those Were the Days, Mary Hopkin
Angel of the Morning, Merrilee Rush
Funny Girl, Barbra Streisand
1968: Ode to Billie Joe, Bobbi Gentry
It Must Be Him, Vikki Carr
Don't Sleep in the Subway, Petula Clark
Respect, Aretha Franklin
Alfie, Dionne Warwick
1967: If He Walked Into My Life Today, Eydie Gorme
Ella at Duke's Place, Ella Fitzgerald
Born a Woman, Sandy Posey
These Boots Are Made for Walkin', Nancy Sinatra
Color Me Barbra, Barbra Streisand
1966: My Name is Barbra, Barbra Streisand
Downtown, Petula Clark
What the World Needs Now is Love, Jackie DeShannon
The Astrud Gilberto Album, Astrud Gilberto
Gentle is My Love, Nancy Wilson
1965: People, Barbra Streisand
Downtown, Petula Clark
We'll Sing in the Sunshine, Gale Garnett
The Girl from Ipanema, Astrud Gilberto
How Glad I Am, Nancy Wilson
1964: The Barbra Streisand Album, Barbra Streisand
Blame it on the Bossa Nova, Eydie Gorme
I'm a Woman, Peggy Lee
The World of Miriam Makeba, Miriam Makeba
The Singing Nun, Dominique
1963: Ella Swings Briefly with Nelson, Ella Fitzgerald
No, Strings, Diahann Carroll
Lena…Lovely and Alive, Lena Horne
I'm a Woman, Peggy Lee
Love Letters, Ketty Lester
My Coloring Book, Sandy Stewart
Slightly Out of Time, Pat Thomas
1962: Judy at Carnegie Hall, Judy Garland
(If You Can't Sing It) You'll Have to Swing It (Mr. Paganini), Ella Fitzgerald
The Essential Billie Holiday, Billie Holiday
Lena Horne at the Sands, Lena Horne
Basin Street East Proudly Presents Miss Peggy Lee, Peggy Lee
1961: Mack the Knife, Ella Fitzgerald
The Sound of Music, Doris Day
I Gotta Right to Sing the Blues, Eileen Farrell
I'm Sorry, Brenda Lee
I'm Gonna Go Fishin,' Peggy Lee
1960: But Not for Me, Ella Fitzgerald
Porgy & Bess, Lena Horne
Alright, Okay, You Win, Peggy Lee
Broadway '59, Pat Suzuki
La Strada del Amore, Caterina Valente
1959: Ella Fitzgerald Sings the Irving Berlin Songbook, Ella Fitzgerald
Everybody Loves a Lover, Doris Day
Eydie in Love, Eydie Gorme
Fever, Peggy Lee
I Wish You Love, Keely Smith
Find the Grammy Awards at grammy.com.
Last Updated on July 3, 2020