Last Updated on October 17, 2022 by Scott Shetler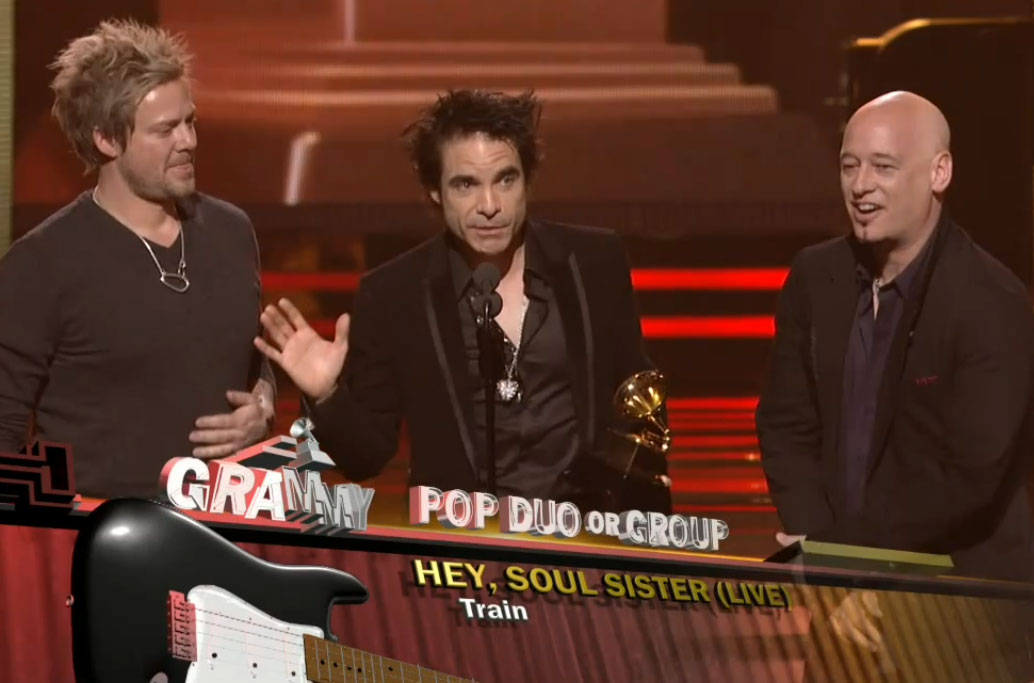 Most career Best Pop Duo/Group Performance nominations
Maroon 5 9
The Beatles 7
The Eagles 5
Steely Dan 5
Coldplay 5
Bon Jovi 4
No Doubt 4
Most career Best Pop Duo/Group Performance wins
Several artists tied with 2
Best Pop Duo/Group Performance Winners and Nominees
Note: Prior to 2012, this award was known as Best Pop Performance by a Duo or Group with Vocals, and there was a separate category for collaborations called Best Pop Collaboration With Vocals. In 2012, the latter category was discontinued, and collaborations were once again eligible for this category.
Winners in bold; other nominees listed beneath.
Grammy Awards: Best Pop Duo/Group Performance Winners and Nominees By Year

2022: Kiss Me More, Doja Cat featuring SZA
I Get a Kick Out of You, Tony Bennett & Lady Gaga
Lonely, Justin Bieber & Benny Blanco
Butter, BTS
Higher Power, Coldplay
2021: Rain On Me, Lady Gaga & Ariana Grande
Un Dia (One Day), J Balvin, Dua Lipa, Bad Bunny & Tainy
Intentions, Justin Bieber featuring Quavo
Dynamite, BTS
Exile, Taylor Swift featuring Bon Iver
2020: Old Town Road, Lil Nas X featuring Billy Ray Cyrus
Boyfriend, Ariana Grande and Social House
Sucker, Jonas Brothers
Senorita, Shawn Mendes and Camila Cabello
Sunflower, Post Malone and Swae Lee
2019: Shallow, Lady Gaga and Bradley Cooper
Fall in Love, Christina Aguilera featuring Demi Lovato
Don't Go Breaking My Heart, Backstreet Boys
'S Wonderful, Tony Bennett & Diana Krall
Girls Like You, Maroon 5 featuring Cardi B
Say Something, Justin Timberlake featuring Chris Stapleton
The Middle, Zedd, Maren Morris and Grey
2018: Feel it Still, Portugal. The Man
Something Just Like This, Chainsmokers & Coldplay
Despacito, Luis Fonsi & Daddy Yankee featuring Justin Bieber
Thunder, Imagine Dragons
Stay, Zedd and Alessia Cara
2017: Stressed Out, Twenty One Pilots
Closer, Chainsmokers featuring Halsey
7 Years, Lukas Graham
Work, Rihanna featuring Drake
Cheap Thrills, Sia featuring Sean Paul
2016: Uptown Funk, Mark Ronson featuring Bruno Mars
Ship to Wreck, Florence + the Machine
See You Again, Wiz Khalifa featuring Charlie Puth
Sugar, Maroon 5
Bad Blood, Taylor Swift featuring Kendrick Lamar
2015: Say Something, A Great Big World & Christina Aguilera
Fancy, Iggy Azalea featuring Charli XCX
A Sky Full of Stars, Coldplay
Bang Bang, Jessie J, Ariana Grande & Nicki Minaj
Dark Horse, Katy Perry featuring Juicy J
2014: Get Lucky, Daft Punk featuring Pharrell Williams & Nile Rodgers
Just Give Me a Reason, Pink featuring Nate Ruess
Stay, Rihanna featuring Mikky Ekko
Blurred Lines, Robin Thicke featuring TI & Pharrell Williams
Suite & Tie, Justin Timberlake featuring Jay-Z
2013: Somebody That I Used to Know, Gotye featuring Kimbra
Shake it Out, Florence + the Machine
We Are Young, fun. featuring Janelle Monae
Sexy and I Know It, LMFAO
Payphone, Maroon 5 featuring Wiz Khalifa
2012: Body and Soul, Tony Bennett & Amy Winehouse
Dearest, Black Keys
Paradise, Coldplay
Pumped Up Kicks, Foster the People
Moves Like Jagger, Maroon 5 & Christina Aguilera
Best Pop Performance by a Duo or Group with Vocals Winners and Nominees By Year

These are the winners and nominees when the category was under its previous name.

2011: Hey, Soul Sister (Live), Train
Don't Stop Believin', Glee Cast
Misery, Maroon 5
The Only Exception, Paramore
Babyfather, Sade
2010: I Gotta Feeling, Black Eyed Peas
We Weren't Born to Follow, Bon Jovi
Never Say Never, the Fray
Sara Smile, Daryl Hall & John Oates
Kids, MGMT
2009: Viva la Vida, Coldplay
Waiting in the Weeds, the Eagles
Going On, Gnarls Barkley
Won't Go Home Without You, Maroon 5
Apologize, OneRepublic
2008: Makes Me Wonder, Maroon 5
(You Want to) Make a Memory, Bon Jovi
Home, Daughtry
Hey There Delilah, Plan White Ts
Window in the Skies, U2
2007: My Humps, Black Eyed Peas
I Will Follow You into the Dark, Death Cab for Cutie
Over My Head (Cable Car), the Fray
Is it Any Wonder?, Keane
Stickwitu, Pussycat Dolls
2006: This Love (Live), Maroon 5
Don't Lie, Black Eyed Peas
Mr. Brightside, the Killers
More Than Love, Los Lonely Boys
My Doorbell, White Stripes
2005: Heaven, Lonely Boys
My Immortal, Evanescence
The Reason, Hoobastank
She Will Be Loved, Maroon 5
It's My Life, No Doubt
2004: Underneath it All, No Doubt
Misunderstood, Bon Jovi
Hole in the World, the Eagles
Stacy's Mom, Fountains of Wayne
Unwell, Matchbox 20
2003: Hey Baby, No Doubt
Everyday, Bon Jovi
Girl All the Bad Guys Want, Bowling for Soup
Where Are You Going, Dave Matthews Band
Girlfriend, *N Sync
2002: Stuck in a Moment You Can't Get Out Of, U2
Shape of My Heart, Backstreet Boys
Superman (It's Not Easy), Five for Fighting
Gone, *N Sync
Imitation of Life, R.E.M.
2001: Cousin Dupree, Steely Dan
Show Me the Meaning of Being Lonely, Backstreet Boys
Pinch Me, Barenaked Ladies
Breathless, the Corrs
Bye Bye Bye, *N Sync
2000: Maria Maria, Santana
I Want it That Way, Backstreet Boys
Kiss Me, Sixpence None the Richer
All Star, Smash Mouth
Unpretty, TLC
1999: Jump, Jive An' Wail, Brian Setzer Orchestra
I Don't Want to Miss a Thing, Aerosmith
One Week, Barenaked Ladies
Iris, Goo Goo Dolls
Crush, Dave Matthews Band
1998: Virtual Insanity, Jamiroquai
Silver Springs, Fleetwood Mac
MMMBop, Hanson
Don't Speak, No Doubt
Anybody Seen My Baby?, Rolling Stones
1997: Free as a Bird, the Beatles
As Long As it Matters, Gin Blossoms
When You Love a Women, Journey
Fire on the Mountain, Neville Brothers
Peaches, Presidents of the United States of America
When You Wish Upon a Star, Take 6
1996: Let Her Cry, Hootie & the Blowfish
I Can Love You Like That, All-4-One
Love Will Keep Us Alive, the Eagles
I'll Be There for You, Rembrandts
Waterfalls, TLC
1995: I Swear, All-4-One
The Sign, Ace of Base
Mmm Mmm Mmm Mmm, Crash Test Dummies
Stay (I Missed You), Lisa Loeb & Nine Stories
I'll Stand By You, Pretenders
1994: A Whole New World, Peabo Bryson & Regina Belle
When I Fall in Love, Celine Dion & Clive Griffin
Man on the Moon, R.E.M.
The Music of the Night, Barbra Streisand & Michael Crawford
Love Is, Vanessa Williams & Brian McKnight
1993: Beauty and the Beast, Celine Dion & Peabo Bryson
I Can't Dance, Genesis
Don't Let the Sun Go Down on Me, George Michael & Elton John
Diamonds and Pearls, Prince & the New Power Generation
Sometimes Love Just Ain't Enough, Don Henley & Patty Smyth
1992: Losing My Religion, R.E.M.
The Commitments soundtrack, the Commitments
More Than Words, Extreme
Right Here, Right Now, Jesus Jones
You're in Love, Wilson Phillips
1991: All My Life, Linda Ronstadt & Aaron Neville
Roam, B-52's
All I Wanna Do is Make Love to You, Heart
Across the River, Bruce Hornsby & the Range
Unchained Melody, Righteous Brothers
1990: Don't Know Much, Linda Ronstadt & Aaron Neville
Love Shack, B-52's
She Drives Me Crazy, Fine Young Cannibals
The Living Years, Mike + the Mechanics
If You Don't Know Me By Now, Simply Red
1989: Brasil, Manhattan Transfer
Kokomo, Beach Boys
Wild Wild West, Escape Club
Anything for You, Gloria Estefan & Miami Sound Machine
Piano in the Dark, Brenda Russell & Joe Esposito
1988: (I've Had) The Time of My Life, Bill Medley & Jennifer Warnes
Alone, Heart
La Bamba, Los Lobos
Somewhere Out There, Linda Ronstadt & James Ingram
Breakout, Swing Out Sister
1987: That's What Friends Are For, Dionne Warwick, Elton John, Gladys Knight & Stevie Wonder
The Next Time I Fall, Peter Cetera & Amy Grant
On My Own, Patti LaBelle & Michael McDonald
All I Need is a Miracle, Mike + the Mechanics
Holding Back the Years, Simply Red
1986: We are the World, USA for Africa
Easy Lover, Philip Bailey & Phil Collins
I Want to Know What Love Is, Foreigner
The Power of Love, Huey Lewis & the News
Broken Wings, Mr. Mister
1985: Jump (For My Love), Pointer Sisters
Drive, the Cars
Hard Habit to Break, Chicago
Wake Me Up Before You Go-Go, Wham!
Owner of a Lonely Heart, Yes
1984: Every Breath You Take, the Police
Do You Really Want to Hurt Me, Culture Club
How Do You Keep the Music Playing, James Ingram & Patti Austin
The Girl is Mine, Michael Jackson & Paul McCartney
Islands in the Stream, Kenny Rogers & Dolly Parton
1983: Up Where We Belong, Joe Cocker & Jennifer Warnes
Hard to Say I'm Sorry, Chicago
Maneater, Daryl Hall & John Oates
Ebony & Ivory, Paul McCartney & Stevie Wonder
Rosanna, Toto
1982: Boy from New York City, Manhattan Transfer
Private Eyes, Daryl Hall & John Oates
Slow Hand, Pointer Sisters
Endless Love, Diana Ross & Lionel Richie
Gaucho, Steely Dan
1981: Guilty, Barbra Streisand & Barry Gibb
Biggest Part of Me, Ambrosia
He's So Shy, Pointer Sisters
Don't Fall in Love with a Dreamer, Kenny Rogers & Kim Carnes
Against the Wind, Bob Seger & the Silver Bullet Band
1980: Minute by Minute, Doobie Brothers
Sail On, Commodores
Lonesome Loser, Little River Band
You Don't Bring Me Flowers, Barbra Streisand & Neil Diamond
Breakfast in America, Supertramp
1979: Saturday Night Fever soundtrack, Bee Gees
Three Times a Lady, Commodores
Get to Get You Into My Life, Earth, Wind & Fire
The Closer I Get to You, Roberta Flack & Donny Hathaway
FM (No Static at All), Steely Dan
1978: How Deep is Your Love, Bee Gees
CSN, Crosby, Stills & Nash
Hotel California, the Eagles
Rumours, Fleetwood Mac
Aja, Steely Dan
1977: If You Leave Me Now, Chicago
I'd Really Love to See You Tonight, England Dan & John Ford Coley
Don't Go Breaking My Heart, Elton John & Kiki Dee
Bohemian Rhapsody, Queen
Afternoon Delight, Starland Vocal Band
1976: Lyin' Eyes, the Eagles
Love Will Keep Us Together, Captain & Tenille
The Way We Were / Try to Remember, Gladys Knight & the Pips
My Little Town, Simon & Garfunkel
A Capella 2, Singers Unlimited
1975: Band on the Run, Paul McCartney & Wings
Body Heat, Quincy Jones
Rikki, Don't Lose That Number, Steely Dan
You Make Me Feel Brand New, Stylistics
Then Came You, Dionne Warwick & the Spinners
1974: Neither One of Us (Wants the Be First to Say Goodbye), Gladys Knight & the Pips
Sing, the Carpenters
Tie a Yellow Ribbon Round the Ole Oak Tree, Tony Orlando & Dawn
Diamond Girl, Seals & Crofts
Live and Let Die, Paul McCartney & Wings
1973: Where is the Love, Roberta Flack & Donny Hathaway
A Horse With No Name, America
Baby I'm-a Want You, Bread
I'd Like to Teach the World to Sing, New Seekers
Summer Breeze, Seals & Crofts
1972: The Carpenters, the Carpenters
How Can You Mend a Broken Heart, Bee Gees
Jesus Christ Superstar, London Cast
All I Ever Need is You, Sonny & Cher
Joy to the World, Three Dog Night
1971: Close to You, the Carpenters
Let it Be, the Beatles
Chicago, Chicago
ABC, Jackson 5
Bridge Over Troubled Water, Simon & Garfunkel
1970: Aquarius / Let the Sunshine In, the 5th Dimension
Abbey Road, the Beatles
Blood, Sweat & Tears, Blood, Sweat & Tears
Crosby, Stills & Nash, Crosby, Stills & Nash
Morning Girl, the Neon Philharmonic
1969: Mrs. Robinson, Simon & Garfunkel
Hey Jude, the Beatles
Child is Father to the Man, Blood, Sweat & Tears
Goin' Out Of My Head / Can't Take My Eyes off You, the Lettermen
Fool on the Hill, Sergio Mendes & Brazil '66
Woman, Woman, Gary Puckett & the Union Gap
1968: Up, Up and Away, the 5th Dimension
Windy, Association
Sgt. Pepper's Lonely Hearts Club Band, the Beatles
The Letter, the Box Tops
I'm a Believer, the Monkees
A Whiter Shade of Pale, Procol Harum
1967: A Man and a Woman, Anita Kerr Quartet
Cherish, Association
Good Vibrations, Beach Boys
Monday Monday, the Mamas & the Papas
Guantanamera, Sandpipers
1966: We Dig Mancini, Anita Kerr Quartet
Help, the Beatles
Mrs. Brown You've Got a Lovely Daughter, Herman's Hermits
Flowers on the Wall, Statler Brothers
You Were on My Mind, We Five
1965: A Hard Day's Night, the Beatles
Grand Ole Opry Favorites, the Browns
The Double Six of Paris Sing Ray Charles, The Double Six of Paris
More Four Freshmen and Five Trombones, the Four Freshmen
Peter, Paul & Mary in Concert, Peter, Paul & Mary
1964: Blowin' in the Wind, Peter, Paul & Mary
The Hi-Los Happen to Bossa Nova, the Hi-Los
Hey Look Us Over, the J's with Jamie
Like Sing… Jackie & Ray Kral, Jackie & Ray Kral
Waitin' for the Evening Train, Anita Kerr Quartet
1963: If I Had a Hammer, Peter, Paul & Mary
The Swingers, the Four Freshmen
The Hi-Los Happen to Folk Songs, the Hi-Los
A Song for Young Love, the Letterman
Through Children's Eyes, the Limeliters
1962: High Flying, Lambert, Hendricks & Ross
Voices in Fun, the Four Freshmen
Close Up, Kingston Trio
The Way You Look Tonight, the Lettermen
The Slightly Famous Limeliters, the Limeliters
1961: We Got Us, Eydie Gorme & Steve Lawrence
Greenfields, the Brothers Four
All Over the Place, the Hi-Los
Here We Go Again, Kingston Trio
Scandavian Shuffle, the Swe-Danes
1960: No award
1959: That Old Black Magic, Louis Prima & Keely Smith
Sing of Song of Basie, Lambert, Hendricks & Ross
Imagination, the King Sisters
Tom Dooley, Kingston Trio
Baubles, Bangles and Beads, Kirby Stone Four
Find the Grammy Awards at grammy.com.