Last Updated on October 17, 2022 by Scott Shetler
Every year when the Academy Award broadcast rolls around, people begin asking where they can find Oscar statue replica trophies. They can be awesome props for Oscar viewing parties, end-of-year office parties, kids' birthday parties, school classroom parties, and so on.
In recent years the Academy has cracked down on some of the companies selling fake plastic Academy Award statues. When I'm in Los Angeles, I can usually find fake Oscar, Emmy, and Grammy statues at various gift shops.
However, if you don't live in LA, your best bet is Amazon. As noted, the Film Academy has sued and won damages against manufacturers who produce Academy Award trophy replica items. But there are no reports of anybody getting in trouble for buying them – only for selling them.
For now, you can buy plenty of Oscar replica trophies online. Scroll down to see links and reviews of some of the top imitation award show statues currently available, as of 2023.
Oscar statue replica trophies for sale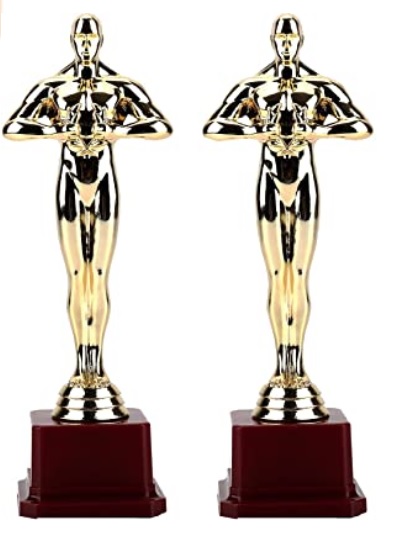 Here's a pretty standard replica Academy Award trophy. Constructed of hard plastic in shiny gold color, this fake Oscar statuette is sturdy and features a weighted plastic base. It's nearly 10 inches tall and looks quite similar to the real thing.
This one has been listed on Amazon for more than two years, long enough to earn several positive reviews. It's a little smaller and more lightweight than a real Oscar, but it's pretty much the closest facsimile we have found.
Crown Awards is offering a sweet deal – a personally customized Oscar statue replica! This 10-inch trophy is similar to many of the other fake Oscar trophies on the market, but this one is special because it includes an engraving plate. You can make it say anything you want! If you want the statue to say your own name along with "Best Actor, 2023," you can do it!
The customized Academy Award is great for putting your own name on it and pretending that you've won on Oscar. Or, create one as a gag gift for a friend and give them a silly award title, like "Most Forgetful Friend" or "Worst Fashion Sense." You can go crazy with the creativity here, and the best part is the statue isn't very expensive even with the personalization.
As the title indicates, this package includes 12 trophies that look Oscar-like. These statues are only six inches tall, and they have a big star on the front, so they really don't look like Academy Awards at all, aside from the gold shine.
That said, these are being marketed for kids' parties, which makes sense. If you're going for Oscar realism, forget about these. But if you're a teacher or parent and just want to give away some fun awards to kids, these will work out great since they have a nice "award show quality" to them. They could be ideal awards for a drama club.
Other Generic Award Statues: Fake Grammy Awards?
Unfortunately, as of this writing, there are no Grammy or Emmy award replica trophies for sale on Amazon. There is one Grammy replica trophy that is currently out of stock – perhaps it will come back in the future. That would be great – how cool would it be to have a replica Grammy? Not all of us can make it to the Grammy Museum to see the real ones, after all.
In the meantime, there are a handful of other more generic award statuettes available. If you simply want some shiny gold trophies that look fancy, we recommend going with the following option:
With a solid gold body carrying a movie reel overhead, these statues look a tiny bit like Emmys if you're not paying close attention. Be warned: These are cheaply made, and they are mini statues, only six inches tall, so there's no realism here.
This product is designed for people who just want props or silly award show replicas for a party. Since it's a 12-pack, this would be a good purchase for a classroom setting – a teacher could buy two packages and get enough trophies for the entire class.
Disclaimer: We do not condone the sale or purchase of counterfeit or non-sanctioned replica trophies. All items displayed on this page can be found on the Amazon marketplace and are therefore assumed to be approved for sale by the appropriate parties.