Last Updated on August 24, 2023 by Scott Shetler
Believe it or not, it's possible to have a tie for a Grammy Award. In fact, it's happened 31 times in the award show's history!
Most of the ties have come in minor categories, such as Best Liner Notes or Classical Engineer. However, there have been some big-name artists involved in Grammy ties. Aretha Franklin, the Rolling Stones, Kendrick Lamar, Babyface, Pitbull, Patti LaBelle, Bruno Mars, and Lionel Richie are among those who have shared an award.
The most prominent tie came in 1978 when Song of the Year, the major songwriting award, was split between Barbra Streisand's "Evergreen" and Debby Boone's "You Light Up My Life." The award went to the songwriters, who in this case were Streisand with Paul Williams for her song, and Joe Brooks for Boone's hit.
(Funnily enough, Streisand had also tied for the Best Actress Oscar several years earlier with Katharine Hepburn!)
Grammy ties often create confusion among fans who didn't realize that ties are possible. And in one case, a presenter struggled to explain that a category was tied, leaving the live audience bewildered for a moment when they heard him announcing multiple names.
Let's take a look at some of the wild Grammy history regarding ties. And then we'll give you a list of all 31 Grammy ties since the awards began in 1959.
The Coolest Grammy Ties in History
1. Patti LaBelle and Lisa Fischer, Best Female R&B Vocal Performance, 1992
Most Grammy Awards are presented in the afternoon pre-ceremony that isn't televised, so most of these ties weren't seen by large audiences.
One of the few times that a tie was broadcast on the main Grammy telecast came in 1992, when Patti LaBelle's Burnin' and Lisa Fischer's "How Can I Ease the Pain" shared the Best Female R&B Vocal Performance award.
Presenter Kenny Loggins announced the tie, but he did so in such excited fashion that he spoke too quickly and completely confused the crowd and millions of viewers at home. Loggins had to re-explain himself to make it clear that both LaBelle and Fischer had won.
Then they both had to come up and accept the award together. Want to watch all the drama again?
That tie came during that strange era when entire albums could compete against individual tracks. That makes this tie even weirder, since LaBelle was honored for her album, while Fischer's win came for a single. They beat out some incredible competition in that category – Aretha Franklin, Gladys Knight, and Vanessa Williams were the other nominees.
2. Daniel Lanois & Brian Eno tie with LA Reid & Babyface, Producer of the Year, 1993
Here's a case of two completely different styles ending up deadlocked. Babyface & La Reid were the premiere hitmakers of the early '90s, producing numerous pop & R&B hits for Boyz II Men, Bobby Brown, TLC, Whitney Houston, Toni Braxton, and many more.
Meanwhile, Daniel Lanois and Brian Eno were best known for working on edgy rock albums, including several U2 records. Both production pairs won the 1993 Producer of the Year Grammy.
3. The Rolling Stones and Bill Withers, Best Historical Album, 2014
Two of the all-time greats (both Rock and Roll Hall of Famers) shared a moment in 2014 when the Rolling Stones and Bill Withers were named co-winners for Best Historical Album.
That award is given to a box set or repackaged album that is reissued many years after its initial release. As such, its winners are usually rock and roll veterans who've been performing for decades. Bob Dylan, the Beach Boys, and the Beatles are among those who have triumphed in the category.
In 2014, the Stones were honored for Charlie Is My Darling – Ireland 1965, while Withers was recognized for The Complete Sussex and Columbia Albums. It was cool to see both acts win, although technically the awards went to the album producers and engineers, not the performers.
4. David Foster and Lionel Richie & James Anthony Carmichael, Producer of the Year, 1985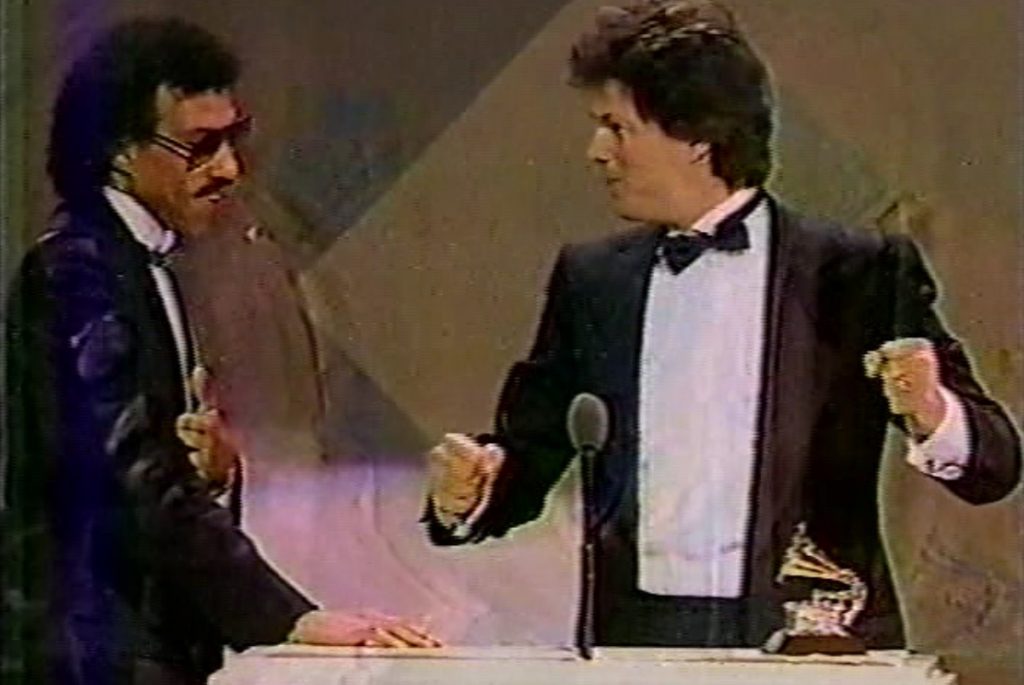 Here's another one that was presented live on the telecast. Chicago produce David Foster won the first of his three Producer of the Year awards. He started the stage with Lionel Richie, who co-produced his album with James Anthony Carmichael.
5. Silk Sonic and Jazmine Sullivan, Best R&B Performance, 2022
Bruno Mars and Anderson .Paak, the duo known as Silk Sonic, swept the 2022 Grammy Awards, winning all four categories in which they were nominated. But they had to share the Best R&B Performance Grammy, as their "Leave the Door Open" tied with Jazmine Sullivan's acclaimed "Pick Up Your Feelings."
6. Dazz Band and Earth, Wind & Fire, R&B Group or Duo Performance, 1983
The Dazz Band deserved a Grammy in 1983 for their funky and infectious hit "Let it Whip." And they got it in the R&B Group or Duo Performance category. But they had to share it with Earth, Wind & Fire.
Earth, Wind & Fire had already won this award on three prior occasions and seemed to be the favorite, so it was impressive that the Dazz Band were able to gather enough votes to force a tie.
7. Itzhak Perlman and Himself, Classical Instrumental Soloist, 1981
Only one person has ever tied with himself. Violinist and conductor Itzhak Perlman legitimately won two Grammys in the Best Classical Performance – Instrumental Soloist (With Orchestra) category in 1981.
One was for his solo on Berg: Violin Concerto, Stravinsky: Violin Concerto in D, and the other was a shared award with Mstislav Rostropovich for Brahms: Double Concerto in A Minor, Op. 102. Two Grammys in the same category in the same year – that's madness! For good measure, Perlman would go on to win that award 5 more times in his career.
8. Kendrick Lamar and Anderson .Paak, Best Rap Performance, 2019
In one of the most recent examples of Grammy ties, five men shared the award for Best Rap Performance in 2019. Anderson .Paak won for his track "Bubblin," while Kendrick Lamar, Jay Rock, Future, and James Blake won for their collaboration "King's Dead." Both tracks somehow beat Drake's "Nice for What" and Travis Scott's "Sicko Mode."
Jay Rock was the only one in attendance when the award was given out during the pre-telecast, so he got the acceptance speech to himself.
Is a Tie at the Grammys Controversial?
How can there be a tie at the Grammys?
Easy: Two songs got the same number of votes.
But how can that happen? Aren't there thousands of voters?
There are roughly 12,000 voting members of the Recording Academy. But Grammy voters are limited in how many categories they're allowed to vote in. This means that some of the smaller categories receive far fewer votes overall, which makes ties more likely.
Are Grammy ties controversial?
There haven't been many conspiracy theories surrounding the two-dozen Grammy ties in history. That's surprising, given that people are always calling the Grammys corrupt or fixed. Remember the accusations of behind-the-scenes shenanigans that Recording Academy CEO Deborah Dugan leveled in 2020? Not to mention that huge outcry when the Weeknd was snubbed in 2021?
We wonder why more people haven't questioned the large number of ties in Grammy history. Is it possible that all of these acts have actually gotten exactly the same number of votes? Did Anderson .Paak really get as many votes as Kendrick Lamar in 2019? Or did the Academy just see an opportunity to reward two worthy nominees so they didn't have to snub either one?
Does a Grammy tie require the exact same number of votes?
This is a good question that we don't know the answer to. What if one song gets 784 votes and another gets 782? Would such a tiny margin be enough for the Academy to declare a tie? We don't know, since the Academy has never bothered to clarify its policy on this matter.
The fact that there have been 31 ties in 64 years (basically one every two years) would seem to indicate that they might be somewhat flexible on what they consider a "tie."
List of Every Tie at the Grammys in History
Here it is, the complete list of the 31 ties in Grammy Awards history. It's possible there may have been a couple other ties we missed, but these are the ones we could find from our research. They are presented in chronological order.
1. Best Musical Theater Album, 1960
Gypsy, Ethel Merman
Redhead, Gwen Verdon
2. Best Contemporary Classical Composition, 1962
Discantus, Laurindo Almeida
Stravinsky: Movements for Piano & Orchestra, Igor Stravinsky
3. Classical Choral Performance, 1967
Handel: Messiah, Robert Shaw Chorale & Robert Shaw Orchestra
Ives: Music for Chorus, Ithaca College Concert Choir, Gregg Smith Singers & Texas Boys Choir; Columbia Chamber Orchestra
4. Classical Album of the Year, 1968
Berg: Wozzeck, Thomas Z. Shepard, Pierre Boulez, and others
Mahler: Symphony No. 8, John McClure, Leonard Bernstein, and others
5. Classical Choral Performance, 1968
Mahler: Symphony No. 8 In E Flat Major (Symphony Of A Thousand), London Symphony Choir; London Symphony Orchestra
Orff: Catulli Carmina, Temple University Choir; Philadelphia Orchestra
6. Best Album Notes, 1975
For The Last Time, Charles R. Townsend
The Hawk Files, Dan Morgenstern
7. Song of the Year, 1978
"Evergreen," Barbara Streisand & Paul Williams
"You Light up My Life," Joe Brooks
8. Best Classical Performance – Instrumental Soloist (with orchestra), 1981
"Berg: Violin Concerto, Stravinsky: Violin Concerto in D," Itzhak Perlman
"Brahms: Double Concerto in A Minor, Op. 102," Itzhak Perlman & Mstislav Rostropovich
9. Best R&B Duo or Group Performance, 1983
"Let it Whip," Dazz Band
"Wanna Be with You," Earth, Wind & Fire
10. Best Opera Recording, 1984
Mozart: Le Nozze di Figaro, Georg Solti and others
Verdi: La Traviata, James Levine, Placido Domingo, and others
11. Producer of the Year, 1985
James Anthony Carmichael & Lionel Richie
David Foster
12. Best Instrumental Composition, 1985
"The Natural," Randy Newman
"Olympic Fanfare and Theme," John Williams
13. Best Tropical Latin Performance, 1986
"Mambo Diablo," Tito Puente
"Solito," Eddie Palmieri
14. Best Polka Album, 1987
Another Polka Celebration, Eddie Blazoncyzk
I Remember Warsaw, Jimmy Sturr
15. Female R&B Vocal Performance, 1992
Burnin, Patti LaBelle
"How Can I Ease the Pain" Lisa Fischer
16. Producer of the Year, 1993
Babyface & LA Reid
Brian Eno & Daniel Lanois
17. Best Gospel Choir or Chorus Album, 1995
Live in Atlanta at Morehouse College, Hezekiah Walker
Through God's Eyes, Milton Brunson
18. Best Album Notes, 2002
Arhoolie Records40th Anniversary Collection: 1960–2000 , Elijah Wald
And It's Deep Too: The Complete Warner Bros. Recordings (1968–1992), Walter Mosley
19. Best Latin Pop Album, 2007
Adentro, Ricardo Arjona
Limon y Sal, Julieta Venegas
20. Best Spoken Word Album, 2007
Our Endangered Values, Jimmy Carter
With Ossie & Ruby, Ossie Davis & Ruby Dee
21. Best Gospel Performance, 2008
"Blessed & Highly Favored," Clark Sisters
"Never Gonna Break My Faith," Aretha Franklin & Mary J. Blige
22. Best Regional Mexican Album, 2009
Canciones de Amor, Mariachi Divas
Amor, Dolor y Lagrimas, Mariachi Los Camperos de Nati Cano
23. Best Engineered Classical Album, 2011
Quincy Porter: Complete Viola Works, Leslie Ann Jones and others
Daugherty: Metropolis Symphony; Deus Ex Machina, Mark Donahue and others
24. Best World Music Album, 2014
Savor Flamenco, Gipsy Kings
Live: Singing For Peace Around The World, Ladysmith Black Mambazo
25. Best Historical Album, 2014
Charlie Is My Darling-Ireland 1965, the Rolling Stones
The Complete Sussex And Columbia Albums, Bill Withers
26. Best Latin Rock, Urban or Alternative Album, 2016
Dale, Pitbull
Hasta la Raíz, Natalia Lafourcade
27. Best Classical Solo Vocal Album, 2017
Schumann & Berg, Dorothea Röschmann (soloist), Mitsuko Uchida (accompanist)
Shakespeare Songs, Ian Bostridge (soloist), Antonio Pappano (accompanist)
28. Best Rap Performance, 2019
"King's Dead," Kendrick Lamar, Jay Rock, Future & James Blake
"Bubblin," Anderson .Paak
29. Best Traditional R&B Performance, 2019
"Bet Ain't Worth the Hand," Leon Bridges
"How Deep is Your Love," PJ Morton featuring Yebba
30. Best Tropical Latin Album, 2020
A Journey Through Cuban Music, Aymee Nuviola
Opus, Marc Anthony
31. Best R&B Performance, 2022
"Leave the Door Open," Silk Sonic
"Pick Up Your Feelings," Jazmine Sullivan
For further reading, check out our huge Grammy archive with the winners and nominees in every major category. And check out the list of artists with the most Grammy nominations in history.