Last Updated on July 7, 2023 by Scott Shetler
Planning a visit to the Rock and Roll Hall of Fame in Cleveland? Great idea! The Hall has everything from Michael Jackson's glove to John Lennon's glasses to Jimi Hendrix's guitar on display.
Finding hotels near the Rock and Roll Hall of Fame isn't too difficult, as there are lots of good options.
Downtown Cleveland has a ton of hotels, but many of them are a mile or more from the Rock Hall itself. That might be a bit too far to walk, especially if you're visiting during the cold winter months.
We recommend saying at one of the seven major hotels within a half-mile of the Hall. This article presents the options that will be less than a 10-minute walk from the Hall museum.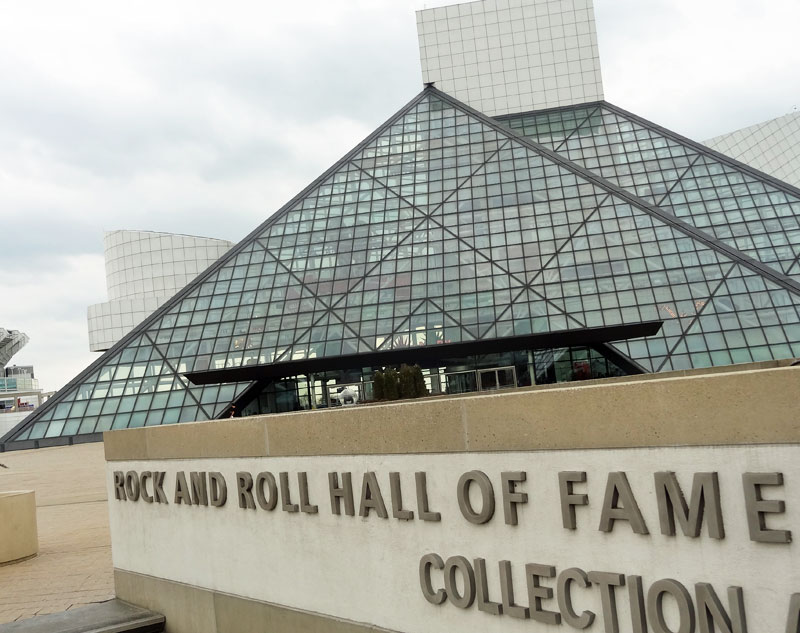 Read on to learn more about your lodging options in this area!
Map Of Hotels Near the Rock Hall
Here's a look at available hotels in map form:
The Closest Hotels Near the Rock and Roll Hall of Fame
Click the hotel name to read reviews or book any of these options:
DoubleTree by Hilton Hotel Cleveland Downtown – Lakeside: The closest hotel to the Rock Hall, the DoubleTree is a contemporary hotel situated along the shores of Lake Erie. Enjoy comfortable and well-appointed rooms, modern amenities including a fitness center and a rooftop pool, and a range of dining options that cater to various tastes. (0.3 miles from the Rock Hall)
Westin Cleveland Downtown: Another hotel with a prime location, the Westin offers a convenient and stylish accommodation option, with modern and comfortable rooms and suites with views of the city skyline, along with a range of amenities including a fitness center, an indoor pool, and a full-service restaurant. (0.4 miles from the Rock Hall)
Hilton Cleveland Downtown: At the Hilton, guests can indulge at the multiple on-site restaurants, and vibrant rooftop bar with panoramic views. The hotel features a state-of-the-art fitness center and luxurious spa facilities, complete with a pool, sauna, and massage services. (0.4 miles from the Rock Hall)
Drury Plaza Hotel Cleveland Downtown: The Drury Plaza Hotel features spacious rooms with modern furnishings and luxurious bedding for ultimate comfort. One of its standout amenities is the rooftop pool and sundeck. The hotel offers a complimentary breakfast buffet, and the hotel's evening reception serves snacks and beverages, including cocktails. (0.5 miles from the Rock Hall)
Cleveland Marriott Downtown at Key Tower: The Marriott features comfortable rooms and delectable dining options at the on-site restaurants, offering culinary experiences ranging from upscale American cuisine to innovative cocktails at the bar. The state-of-the-art fitness center and indoor pool provide a relaxing retreat (0.5 miles from the Rock Hall)
Hampton Inn Cleveland Downtown: None of the hotels near the Rock and Roll Hall of Fame are cheap, but the Hampton is one of the more affordable options. The hotel features the usual amenities, including a pool and fitness center. Most importantly, it has a complimentary hot breakfast buffet. (0.5 miles from the Rock Hall)
Hyatt Regency Cleveland at the Arcade: Nestled within the historic Arcade indoor mall, the Hyatt offers a unique blend of timeless elegance and contemporary comfort, with a fitness center and on-site restaurant. The stunning architecture of the Arcade provides a remarkable backdrop for your visit. (0.6 miles from the Rock Hall)
Visiting the Rock Hall
If you plan to visit the museum at the Rock and Roll Hall of Fame, note that its regular hours are 10 am to 5 pm. It's open a few hours later on Thursdays, and it's open on Fridays and Saturdays until 8 pm during July and August only.
The Rock Hall now offers timed tickets when they are purchased ahead of time. You can buy your Rock Hall of Fame tickets in advance on Viator.
Here are a couple more Cleveland tours worth checking out while you're in town:
Downtown Cleveland Walking Tour: For less than $25, join a guided tour through downtown to see highlights like Public Square, the Abraham Lincoln Statue, Playhouse Square, and the Arcade indoor mall. Book here.
Cleveland Neighborhood Food Tour: This small-group tour includes samples at a gourmet Mexican bistro, an ice cream shop, a local butcher, and a classic neighborhood restaurant. Book here.
Guided Cleveland Brewery Tour: This 5-hour tour includes round-trip transportation to four breweries, and also comes with lunch or dinner included! Book here.
For further reading, see our predictions for future Rock Hall inductees. And see Quirky Travel Guy's lengthy photo essay showing exhibits you can see inside the Rock Hall.