Last Updated on July 7, 2023 by Scott Shetler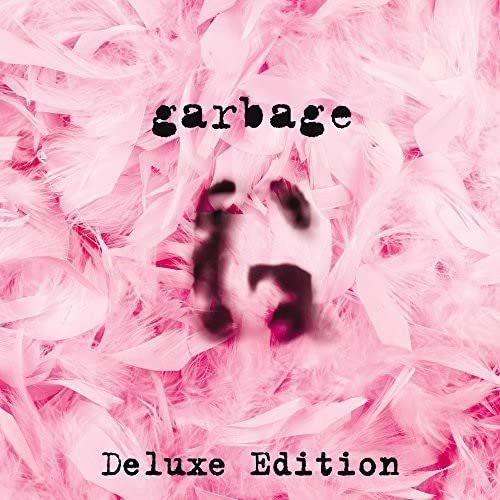 Garbage: Rock and Roll Hall of Fame Facts
Eligible Since: 2021
Finalist: Never
Grammy Awards/Nominations: 0/7
Career Top 40 Hits: 1
Essential Tracks: Supervixen (1995), Queer (1995), Only Happy When it Rains (1995), #1 Crush (1997), Push It (1998), I Think I'm Paranoid (1998), Shut Your Mouth (2001), Why Do You Love Me (2005), The Men Who Rule the World (2021)
Essential Albums: Garbage (1995), Version 2.0 (1998), Beautifulgarbage (2001)
A team of three rocker dudes from Wisconsin and a Scottish female singer doesn't sound like a winning formula on paper, but it worked out for Garbage better than anyone could have expected.
Garbage's music is heavy and powerful, but also extremely melodic. That's why they were able to score so many radio hits, and they even became a staple on VH1, which typically didn't play hard rock videos.
As other '90s acts like Green Day and Rage Against the Machine are getting inducted into the Rock and Roll Hall of Fame, why aren't Garbage in the discussion? Let's run down the credentials of one of my personal favorite bands.
Garbage's Rock Hall Credentials
Shirley Manson was one of the most magnetic and captivating lead singers of her generation. She has a bit of attitude and strong vocal chops to back it up. Manson can let loose vocally, but she knows when to hold back and deliver a sultry or whispery vocal if the song calls for it.
Singer-songwriter Skylar Grey noted that Manson "has just the right amount of tough and sexy." That combination allowed her band to be accepted by rock fans during a decade bookended by grunge and aggressive rap-rock.
This was not your typical rock band. Their 1995 debut single was called "Queer." Can you imagine any other hard rock act of the '90s not only recording a song called "Queer," but actually releasing it as the first single that introduced them to the world?
"Queer" wasn't specifically written about the LGBTQ community, but it did serve as a nod to the outcasts, the message being that everyone is weird in their own way. Manson re-wrote her bandmates' original lyrics to give them an ambiguous meaning, added a trip hop-inspired groove, and chose to sing in a quiet, restrained voice, creating the coolest vibe possible for the tune. It's one of the best chilled-out rock songs of all time.
Subsequent hits followed in bunches: "Only Happy When it Rains" and "Stupid Girl" from the debut album, and the brilliant "#1 Crush" from the Romeo + Juliet soundtrack.
The group's polished second album Version 2.0 spawned four hits – "Push It," "I Think I'm Paranoid," "Special," and "When I Grow Up." It was even nominated for Album of the Year at the Grammys, at a time when only five albums got nominated (it lost to Lauryn Hill.)
Though the band's songs were always catchy, they regularly contained edgy and/or subversive lyrics almost as a way to show that, yes, their music may sound mainstream, but it's still dangerous. Take a glance at the lyrics of "When I Grow Up" for further evidence.
Garbage and Version 2.0 both sold around 2 million copies in the U.S., giving the band the opportunity to write and perform the 1999 Bond theme "The World is Not Enough." But their commercial and critical success began slipping soon after.
Released shortly after September 11, 2001's Beautifulgarbage failed to make the same kind of impact that its predecessors had, though it remains a massively underrated record. If you haven't listened to that album in a while (or ever), do yourself a favor and go stream it now.
"Shut Your Mouth" follows the catchy-but-hard-rocking template that Garbage had always mastered. "Cherry Lips (Go Baby Go!)" joyfully incorporates hints of new wave. "Can't Cry These Tears" somehow evokes the '60s girl group era. "Androgyny" feels like a thematic successor to "Queer," powered by weird little truncated synth notes that thrill me to this day.
Since then, Garbage has been an off-and-on band, going on hiatus for a few years at a time and then occasionally returning with new music. Their latest effort, 2021's No Gods No Masters, featured the noteworthy single "The Men Who Rule the World," which makes its target clear from its opening line: "The men who rule the world have made a f—ing mess/ The history of power, the worship of success."
One factor working in Garbage's favor in terms of Rock and Roll Hall of Fame consideration is how well their music has stood the test of time. In fact, it sounds better than ever.
When I saw Garbage in concert a couple years back, I was blown away by how hard they rocked. From the very first notes of Garbage's opening track that night, "Supervixen," I realized that there was nothing on alt-rock radio today that rocks anywhere near as hard.
These days, alternative music has largely changed to a genre that values dancing more than guitars. Garbage rocks a hell of a lot harder than bands like Panic! at the Disco and Coldplay that have been dominating the format.
Garbage had commercial success and critical success as well, at least for their first few albums. They've also stayed in the public eye the past few years with a new album and multiple tours with acts like Alanis Morissette, Tears for Fears, and Noel Gallagher.
Manson was always the main focus of the band, which meant that the group's excellent musicians were often overlooked. All four band members were credited as songwriters and producers on their albums. Multi-instrumentalists Duke Erikson and Steve Marker were the ones providing those memorable riffs. Butch Vig was a solid drummer, but he's known almost as much for his legendary production work outside the group.
Vig is the guy who produced Nirvana's Nevermind and Smashing Pumpkins' Siamese Dream. While that's not related to Garbage, it does indirectly help the band's Hall of Fame chances, because shouldn't the guy who produced "Smells Like Teen Spirit" be in the Hall?
Manson remains outspoken on a number of topics. In a recent discussion about musician pay, she warned, "If the live scene fails, the whole ship goes down entirely. All you will be left with is the mainstream. No alternative perspectives. Nothing loud. Nothing dangerous. Nothing weird. Little that lasts more than one album cycle."
Though she wasn't necessarily talking about herself, that quote exactly captures who Garbage were and still are. Alternative. Loud. Dangerous. Weird. That's everything we want from our rock bands, isn't it?
They should definitely be in the Rock Hall conversation much more than they are.
The Case Against Garbage
Some may claim that it's not clear how much influence Garbage has had on modern music. As noted, there's not a lot of mainstream rock music getting played on the radio anymore, so if Garbage's melodic and heavy riffs have inspired the current generation, it's not necessarily obvious.
You can hear echoes of the band in the music of Paramore and Billie Eilish, but the Hall typically prefers to induct artists who've had a much wider influence.
That said, Shirley Manson absolutely has influenced a number of singers who came later. Florence Welch and Lady Gaga are among the superstars who have cited Manson as a significant inspiration. So Garbage can make a case that their influence is sufficient.
Also, Garbage's run as a major chart and cultural force was brief, essentially lasting from 1995 to 2001. And that's if we're being kind and including the Beautifulgarbage era. It could be argued that their true run of success was only '95 to '99. Hall voters may feel that's not long enough to warrant a place in one of rock & roll's most hallowed institutions.
The Verdict: Will Garbage Ever Get Inducted Into the Rock and Roll Hall of Fame?
With irresistible songs, a captivating singer, strong songwriting, and a super-producer in the group, Garbage would seem to have a strong case for the RRHOF.
Unfortunately, neither the nominating committee nor the group of dedicated Hall-watching fans and media members who tend the guide the conversation on these matters seem to have much interest in Garbage right now.
I do believe that as time goes by, perhaps in 10-15 years, Garbage should have a good chance of getting in, based on all the reasons we've outlined. So we'll list their long-term odds at 40%. It's just not going to happen anytime soon.
Rock and Roll Hall of Fame: Garbage
Odds of Getting Inducted Next Year: 2%
Odds of Getting Inducted in the Next Five Years: 10%
Odds of Getting Inducted Eventually: 40%
Do you think Garbage will be inducted into the Rock and Roll Hall of Fame someday? Leave a comment and let us know!
Click to read all the articles in our "Will They Get Inducted?" series!