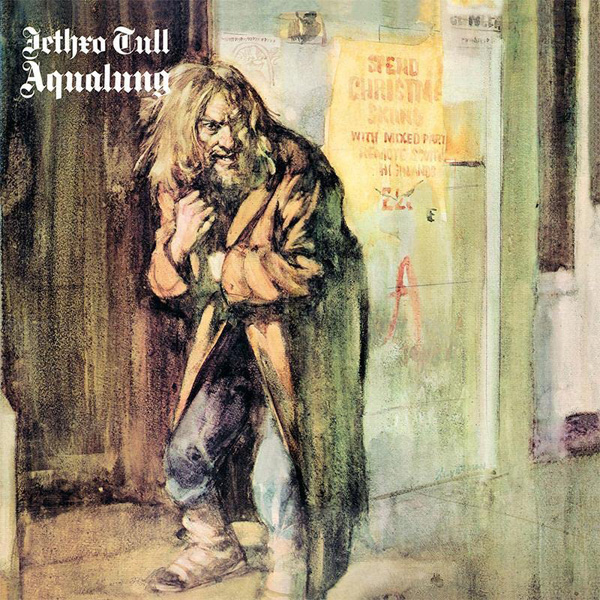 Jethro Tull: Rock and Roll Hall of Fame Facts
Eligible Since: 1994
Finalist: Never
Grammy Awards/Nominations: 1/1
Career Top 40 Hits: 2
Essential Tracks: Living in the Past, Aqualung, Thick as a Brick, Bungle in the Jungle, Skating Away on the Thin Ice of a New Day, Minstrel in the Gallery, The Whistler
Essential Albums: Stand Up (1969), Aqualung (1971), Thick as a Brick (1972), A Passion Play (1973), War Child (1974), Minstrel in the Gallery (1975)
To music fans who grew up in the 1980s or later, the ones who don't remember Jethro Tull's heyday, the progressive rock band is mostly known as that weird group that infamously upset Metallica to win the first Best Heavy Metal Grammy Award, in one of the Grammys' all-time embarrassing moments.
It's unfortunate that moment is one of the biggest parts of their biography, because Jethro Tull legitimately created good music and have a reasonable case for Rock and Roll Hall of Fame induction.
Will Jethro Tull ever get selected for Rock Hall induction? Let's go over the pros and cons of their career and make a prediction.
Jethro Tull's Rock Hall Credentials
Jethro Tull formed in the late '60s in England and went on to release 16 albums that earned Gold or Platinum status, including compilations and live albums. That's a massive number.
They were a rare band where flute and guitar held equal power. Frontman Ian Anderson played both instruments, giving the band a unique sound that made it stand out in its day.
That's an important factor for Rock Hall consideration. So many '70s rock bands sounded very similar, and many of them get lost in the shuffle in retrospect. Jethro Tull do not have this problem.
Jethro Tull pushed the boundaries of rock music by incorporating folk, classical, and blues elements into their sound. Many of their best songs had compelling arrangements that moved between quiet and loud moments.
1972's Thick as a Brick and 1973's A Passion Play both reached #1 on the U.S. album chart, a major achievement for a foreign act with a quirky sound.
"Aqualung" became perhaps the group's most famous song, as it's earned significant airplay on classic rock radio stations over the years despite never being released as a single. Its striking guitar riff and forceful vocal delivery make it stand out on radio to this day. It's an example of what progressive rock can sound like at its best.
Jethro Tull was a strong live band. Ian Anderson's charismatic stage presence, combined with the group's theatrical shows, made them a must-see act. They continue to tour and release new albums, though Anderson is the only original member still with the group.
Anderson described his writing as "social documentary." The band's socially conscious lyrics and thought-provoking themes resonated with audiences, addressing topics like religion, human nature, and the environment. Jethro Tull challenged the conventional norms of rock music, which is something to be rewarded.
Did Jethro Tull influence any modern bands? Well, not many bands these days incorporate the flute. But their subtle influence can be seen here and there. Pearl Jam's Eddie Vedder said he was a fan of the group as a kid. So they're one of many bands that Vedder references in his work.
It's also likely that an act like the Dave Matthews Band was influenced by Jethro Tull, although I can't find any evidence that Dave has ever addressed this. His band weaves violin, saxophone, and sometimes pennywhistle into rock songs in much the same way that Anderson used the flute, so there seems to be some influence, even if it's indirect.
The Case Against Jethro Tull
The main argument against Jethro Tull's induction into the Rock and Roll Hall of Fame is the group's perceived limited mainstream appeal. Some critics believe that Jethro Tull's music, with its prominent flute and complex compositions, did not have the same broad appeal as some of their contemporaries.
While Jethro Tull had successful albums, they didn't have a significant number of chart-topping hits, which is a criterion often used to evaluate an artist's impact on popular music.
They notched only two Top 40 hits in America – 1972's "Living in the Past," which reached #11, and 1974's "Bungle in the Jungle," which topped out at #12. The group did create a few other songs, like "Aqualung," which went on to become classic rock radio staples, despite never charting.
Jethro Tull's frequent shifts in musical direction, from progressive rock to folk and beyond, may have diluted their impact in any one genre. That could make it harder to categorize their contribution to rock music.
But the bigger issue is that Anderson himself has repeatedly said that he doesn't think his band belongs in the Rock Hall.
He told USA Today, "I think it's quite wrong for us to be in the Rock & Roll Hall of Fame when so many great American acts are being ignored and will be for all time, because I suppose they haven't sold enough records or aren't that popular to impress the founding fathers of the Rock Hall… Tull isn't an example of Americana, and Americana is what the Rock Hall should be about. It's celebrating American music in an American institution, and I don't really feel Tull really qualifies in that sense."
In a more recent interview, he added, "So far, it's a sense of relief that I haven't had to face the embarrassing prospect of being invited into the Hall of Fame, to be inducted into the Hall of Fame. I've maintained the position that the Rock & Roll Hall of Fame is an American institution about American-inspired music… There is a certain sort of American styling, and certainly, the Rolling Stones for example would fit that perfectly. Because they owe everything to American music, whereas I guess Jethro Tull, apart from the first album, I would say, not a lot of Americana in the musical styles that I tend to work with. So I don't think we are appropriate as inductees into the Rock & Roll Hall of Fame." 
The Rock Hall has dozens of worthy contenders to consider every year. If one of those bands has been publicly acknowledging for years that they don't belong, why would the Hall ever consider them?
The Verdict: Will Jethro Tull Ever Get Inducted Into the Rock and Roll Hall of Fame?
Probably not. Especially given Anderson's public comments in which he all but begs the Hall not to induct his band.
There's a movement among some Hall-watchers and Jethro Tull fans to create momentum for the group. But I don't see it happening, even in the distant future.
It's just been so long since Jethro Tull were culturally relevant. Their peak was around 50 years ago, roughly the same time frame as acts like Led Zeppelin. It's hard to imagine this new, younger group of Hall voters suddenly feeling compelled to honor Jethro Tull.
The odds of Jethro Tull being voted in by the full Rock Hall voting body are nil. The band does have an outside chance of being selected for induction as a Musical Influence, just as Judas Priest were. That would count as being inducted, but it's still unlikely.
Rock and Roll Hall of Fame: Jethro Tull
Odds of Getting Inducted Next Year: 2%
Odds of Getting Inducted in the Next Five Years: 10%
Odds of Getting Inducted Eventually: 25%
Do you think Jethro Tull will be inducted into the Rock and Roll Hall of Fame someday? Leave a comment and let us know!
Click to read all the articles in our "Will They Get Inducted?" series!
Last Updated on October 12, 2023