Last Updated on August 24, 2023 by Scott Shetler
In 2007, hip hop pioneers Grandmaster Flash and the Furious Five made history as the first rap artists ever inducted into the Rock and Roll Hall of Fame.
In 2023, when Missy Elliott was inducted into the Rock and Roll Hall of Fame in her first year of eligibility, she became the first female MC to earn the honor.
What other rap artists have received Hall of Fame recognition in the years between? Read on for the complete list of hip hop inductees, from Public Enemy to Eminem – plus our predictions of which rappers will get the call next!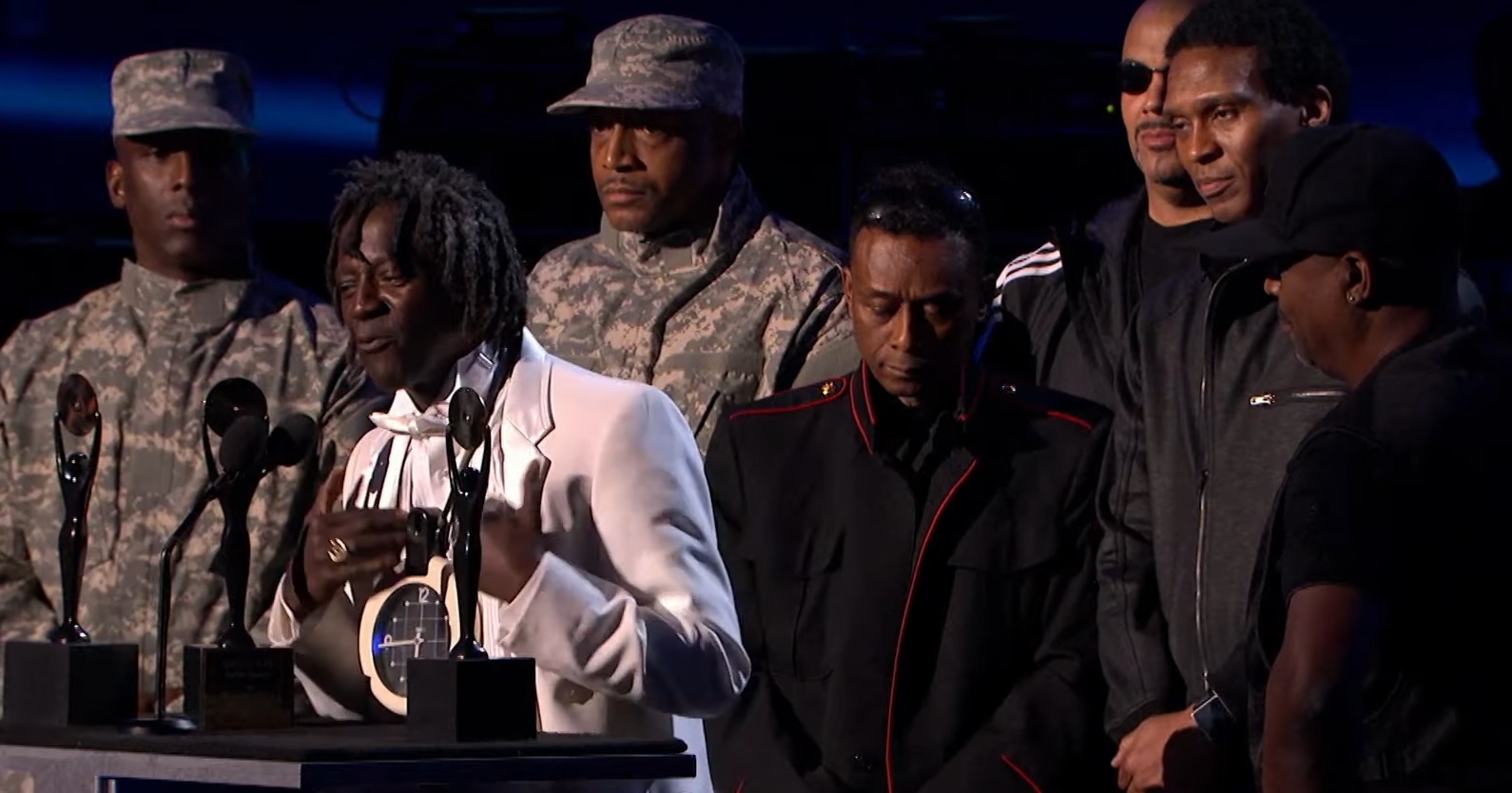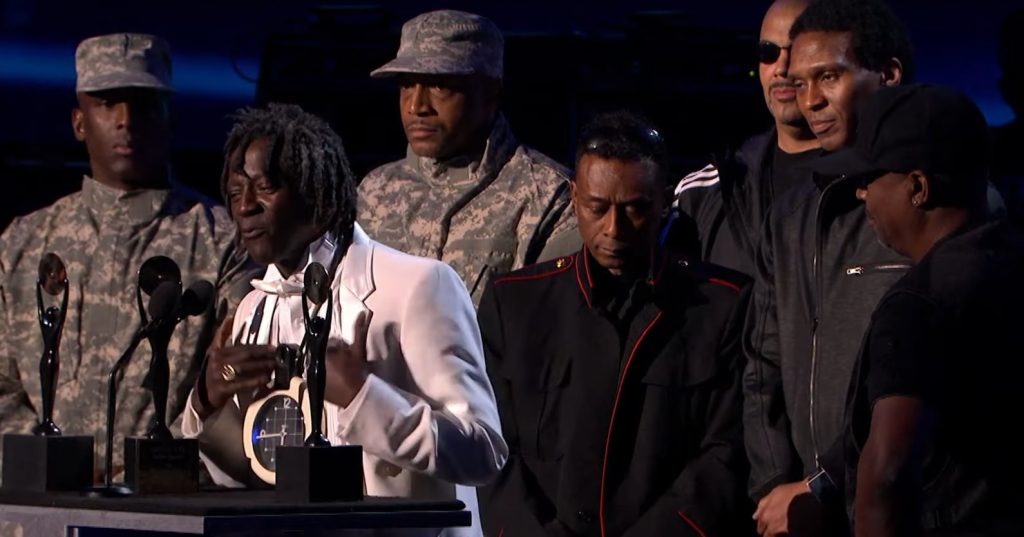 Why Are There Rappers in the Hall of Fame?
First, let's start with the question that some people still ask. Isn't the RRHOF just for rock bands? Well, no. The Hall inducts artists from all genres, including disco acts like Abba, country acts like Dolly Parton, pop singers like Madonna, and soul singers like Nina Simone.
That being the case, it makes perfect sense to include rappers in the Hall of Fame as well.
List of Rappers in the Rock and Roll Hall of Fame
Here's the full list of hip-hop artists who have been inducted in the Hall as of 2023.
2007: Grandmaster Flash and the Furious Five
2009: Run-DMC
2012: Beastie Boys
2013: Public Enemy
2016: N.W.A.
2017: Tupac Shakur
2020: Notorious B.I.G.
2021: Jay-Z
2021: LL Cool J
2021: Gil Scott-Heron
2022: Eminem
2023: Missy Elliott
2023: DJ Kool Herc
Let's take each induction one at a time.
Grandmaster Flash and the Furious Five (2007)
Inducted By: Jay-Z
Best known for "The Message," Grandmaster Flash and the Furious Five popularized the idea of using rap music as a vehicle for social change. Grandmaster Flash was officially inducted along with Melle Mel, The Kidd Creole, Scorpio, Keef Cowboy, and Rahiem. Jay-Z had the honor of presenting their induction.
Run-DMC (2009)
Inducted By: Eminem
The first rap act ever to reach the Top 10 on the pop chart, Run-DMC were selected in their first year of eligibility on the strength of tracks like "King of Rock" and "Walk This Way." Darryl "D.M.C." McDaniels, Jason "Jam-Master Jay" Mizell, and Joseph "DJ Run" Simmons were enshrined by Eminem.
Beastie Boys (2012)
Inducted By: Chuck D & LL Cool J
Mike D, Ad-Rock and MCA showed that rap could be influenced by punk and rock music, and that great art could be made by stitching together dozens of samples. They strung together five classic albums at the start of their careers, including the energetic Licensed to Ill, the critical favorite Paul's Boutique, and the chart-topper Ill Communication.
Public Enemy (2013)
Inducted By: Harry Belafonte & Spike Lee
Just a year after inducting the Beastie Boys, Chuck D got inducted himself, along with Flavor Flav, Professor Griff, and Terminator X. The first real critical darlings of rap music, Public Enemy transformed rap music with fierce political and social commentary atop powerful beats.
N.W.A. (2016)
Inducted By: Kendrick Lamar
They weren't together long, but Compton rappers N.W.A. made a remarkable impact with their unapologetic songs about controversial subjects like crime, drugs, racism, and police brutality. DJ Yella, Ice Cube, Dr. Dre, Eazy-E, and MC Ren managed to sell more than 10 million albums with very little radio play.
Tupac Shakur (2017)
Inducted By: Snoop Dogg
2Pac was the first solo rapper to receive RRHOF induction and of course, sadly, it was a posthumous induction. Snoop Dogg did the honors, noting that Shakur was both a gangsta and a sensitive man, a contradiction seen in his work in songs like "California Love" and "Dear Mama."
Notorious B.I.G. (2020)
Inducted By: P Diddy
It's still amazing to realize how much the Notorious B.I.G. accomplished in just four years. The Brooklyn rapper behind "Big Poppa," "Juicy," "Hypnotize," and "Mo Money Mo Problems" was posthumously inducted in 2020. His now-grown kids CJ and T'yanna gave speeches on his behalf at the virtual ceremony that year.
Jay-Z (2021)
Inducted By: Dave Chappelle
Few rappers have scored more hit songs over a longer period of time than Jay-Z. Since 1996, he's been lighting up the charts with hits like "Can I Get A…," "Hard Knock Life," "Big Pimpin'," "Izzo (H.O.V.A.)," "99 Problems," and "Empire State of Mind." He chose comedian Dave Chappelle to induct him, and President Obama also provided a videotaped message of congratulations.
LL Cool J (2021)
Inducted By: Dr. Dre
From "Rock the Bells" to "I Need Love" to "I'm That Type of Guy" to "Mama Said Knock You Out," LL Cool J was one of the most prominent hip hop hitmakers in the '80s. He was nominated for the Hall six times between 2010 and 2021, but couldn't garner the necessary votes for induction. Ultimately, he was inducted via the Musical Excellence category, which doesn't require a vote of the full organization.
Gil Scott-Heron (2021)
Inducted By: Common
Though not considered a rapper in the traditional sense, Gil Scott-Heron was a spoken word poet whose fiery and thoughtful 1971 recording "The Revolution Will Not Be Televised" laid a blueprint for what rap could become. He was inducted via the Early Influence category.
Eminem (2022)
Inducted By: Dr. Dre
Marshall Mathers had a combination of critical and commercial success that was almost unmatched in hip hop history. He squeezed pieces of six songs into his induction ceremony performance, including a version of "Stan" with Ed Sheeran.
Missy Elliott (2023)
Inducted By: TBA
Missy Elliott is a true original who always does things her own way, from recording smash hits like "Get Ur Freak On" and "Work It" to releasing wonderfully bizarre music videos.
DJ Kool Herc (2023)
Inducted By: TBA
The Musical Influence category was used to induct DJ Kool Herc, one of the forefathers of hip hop music, who used multiple turntables to extend instrumental breaks and create some of the building blocks of what would become rap music.
Which Other Rappers Have Been Nominated?
In addition to all those already inducted, a few other rappers have earned nominations for the Rock and Roll Hall of Fame, but have yet to get selected:
Afrika Bambaataa (2008)
Eric B & Rakim (2012)
A Tribe Called Quest (2022, 2023)
Which Rappers May Be Inducted in the Future?
Artists are eligible for RRHOF induction 25 years after their first release, which means that every rapper who began their career in the '90s or earlier is now eligible.
Of those who are not yet inducted, which rappers have the best shot at getting inducted in the next few years? Here's our shortlist.
Eligible rappers who should be inducted next:
1 A Tribe Called Quest
2 Outkast
3 Snoop Dogg
4 Salt N Pepa
5 Queen Latifah
6 Eric B & Rakim
7 De La Soul
Artists who are not yet eligible for the RRHOF, but will likely be inducted once they are:
1 Kanye West
2 Drake
3 Kendrick Lamar
4 Lil Wayne
5 Nicki Minaj
See our full list of Rock and Roll Hall of Fame predictions.
Who do you think should be the next rappers in the Rock and Roll Hall of Fame?