Last Updated on July 7, 2023 by Scott Shetler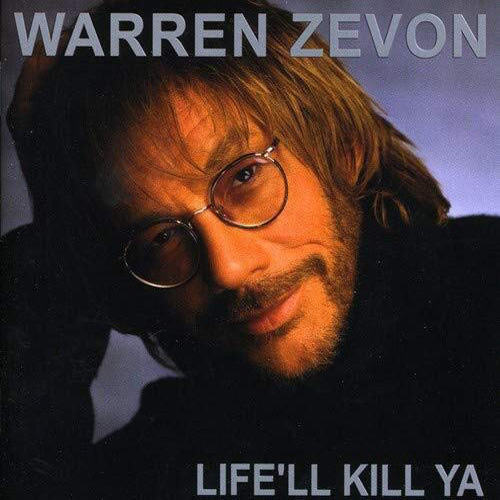 Warren Zevon: Rock and Roll Hall of Fame Facts
Eligible Since: 1995
Finalist: Once (2023)
Grammy Awards/Nominations: 2/5
Career Top 40 Hits: 1
Essential Tracks: Carmelita (1976), Poor Poor Pitiful Me (1976), Lawyers, Guns and Money (1978), Werewolves of London (1978), A Certain Girl (1980), The Factory (1987), Finishing Touches (1991), My Sh–'s F—ed Up (2000), Keep Me in Your Heart (2003)
Essential Albums: Warren Zevon (1976), Excitable Boy (1978), Bad Luck Streak in Dancing School (1980), Sentimental Hygiene (1987), Life'll Kill Ya (2000), The Wind (2003)
Warren Zevon's Rock Hall Credentials
After nearly 30 years of eligibility, the late singer-songwriter Warren Zevon finally earned a nomination for the Rock and Roll Hall of Fame in 2023.
Zevon was never a fixture on the charts, but critics and a devoted group of fans connected with his work. His music ranged from classic rock to acoustic ballads to up-tempo, pop-leaning tunes like his most famous song, "Werewolves in London."
His lyrics were similarly wide-ranging. Zevon could be thoughtful and often wrote about dark topics, but his sense of humor kept the mood light and separated him from many of his peers, who were too serious or "cool" to show their witty side.
His songs often featured a mix of rock, folk, and blues influences, combined with his trademark storytelling and clever lyrics.
Zevon's 1976 self-titled major label debut didn't produce any hit singles, but it earned great critical acclaim. The album featured contributions from no fewer than seven acts now in the Rock and Roll Hall of Fame: production by Jackson Browne and appearances from Bonnie Raitt, Linda Ronstadt, and members of the Eagles, Beach Boys, Fleetwood Mac, and the Everly Brothers. That's a stunning guest list.
His next album produced the bouncy, piano-driven "Werewolves of London," which became a signature song. Reaching #21 on the pop chart, it was the biggest hit of his career.
Zevon struggled with drug and alcohol abuse in the '80s, but got help at rehab and emerged with 1987's Sentimental Hygiene, another star-studded affair. This one featured Bob Dylan, Neil Young, Don Henley, R.E.M., and Flea, all Rock and Roll Hall of Famers themselves.
The fact that so many legendary musicians appeared on Zevon's music throughout the years shows how much respect his peers had for him. Billy Joel even personally requested that the Hall nominate him, saying, "He was a real original, and I don't know if that's appreciated enough. The first minute I saw him, I was knocked out. He was like the crazy brother I never had. He was fearless, and it stuck with me. I never thought he got the attention he deserved."
Though Zevon never returned to the Top 40, a deep dive into his catalogue reveals a number of vibrant, humorous tracks spanning his entire career, including "A Certain Girl," "Things To Do in Denver When You're Dead," "I Was in the House When the House Burned Down," "Lawyers, Guns and Money," "Boom Boom Mancini," "Finishing Touches," and "My Sh–'s F—ed Up."
Zevon did earn another hit as a songwriter when Ronstadt reached the Top 40 in 1978 with "Poor Poor Pitiful Me," a song that had appeared on his debut album.
Following a terminal cancer diagnosis in 2002, Zevon worked on his final album, The Wind. Released shortly before his death in 2003, the album received widespread praise and earned two posthumous Grammy Awards.
The record featured numerous highlights, like the rollicking Bruce Springsteen collab "Disorder in the House." "Keep Me in Your Heart" was a gorgeous ballad that packed a massive emotional punch when you realize Zevon was singing about his own imminent death.
The most remarkable thing about Zevon was the consistent quality of his work. He never had that late-career drop in quality that many musicians suffer from. Even his lowest-selling albums still contained solid material.
Zevon's distinct sound and songwriting stand out among his contemporaries. His darkly humorous and cynical approach to lyric writing pushed the boundaries of rock music. It's easy to see why Zevon was one of David Letterman's favorite musicians.
The Case Against Warren Zevon
One reason Zevon might not be inducted could be his limited commercial success compared to other eligible candidates. Although he achieved critical acclaim, his mainstream appeal never reached the same heights as some of his contemporaries.
Even Zevon's big hit, "Werewolves in London," was something of a novelty song, with its cartoonish howls and silly lyrics. Rock Hall Voters who don't take the time to look up Zevon's other work may immediately write him off because of that song, which would be a shame.
One of the problems with Zevon's candidacy is that, because his prime was so long ago, many people under 50 don't remember a time when he was popular. Unless they recall media coverage of Zevon's 2003 comeback and subsequent passing, he is viewed more as a historical figure, if they know him at all.
There's also the question of influence. While Zevon's songwriting was tremendous, his humorous brand of storytelling isn't exactly in style these days. It's not clear which modern artists would cite Zevon as a direct influence on their work.
The Verdict: Will Warren Zevon Ever Get Inducted Into the Rock and Roll Hall of Fame?
Zevon doesn't have the album sales and chart hits of many other Rock Hall candidates, such as the Dave Matthews Band, Weezer, the Pointer Sisters, Foreigner, and several others.
That being the case, it's somewhat surprising that he was even nominated in 2023. But that means that folks on the nominating committee care more about the craft and the artistry, which Zevon clearly demonstrated.
Artists who don't sell a lot of records but make great music can still get inducted. Zevon could be one such artist.
Most acts who earn a Hall nomination do eventually get inducted. So it's now likely that Warren Zevon will take a place in the Rock Hall. Whether it happens sooner or later is anyone's guess.
Rock and Roll Hall of Fame: Warren Zevon
Odds of Getting Inducted Next Year: 15%
Odds of Getting Inducted in the Next Five Years: 30%
Odds of Getting Inducted Eventually: 55%
Do you think Warren Zevon will be inducted into the Rock and Roll Hall of Fame someday? Leave a comment and let us know!
Click to read all the articles in our "Will They Get Inducted?" series!