Last Updated on September 1, 2023 by Scott Shetler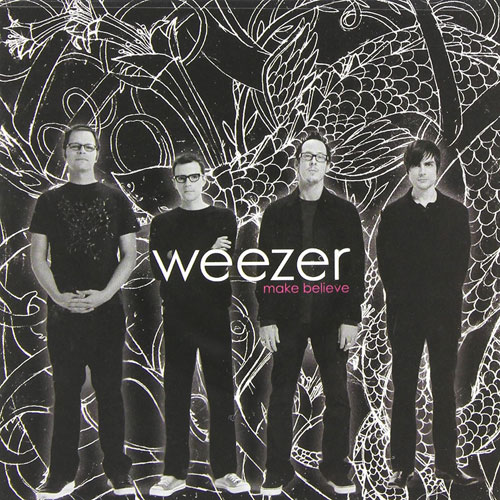 Weezer: Rock and Roll Hall of Fame Facts
Eligible Since: 2020
Finalist: Never
Career Grammy Awards/Nominations: 1/4
Career Top 40 hits: 1
Essential tracks: My Name is Jonas, Say It Ain't So, Buddy Holly, Undone – The Sweater Song, Only in Dreams, Tired of Sex, El Scorcho, Hash Pipe, Island in the Sun, Beverly Hills, The Greatest Man That Ever Lived
Essential Albums: Weezer – Blue Album (1994), Pinkerton (1996), Weezer – Green Album (2001), Make Believe (2005), Weezer – Red Album (2008), Everything Will Be Alright in the End (2014)
It's surprising that a band with as many hits as Weezer is rarely mentioned in the Rock and Roll Hall of Fame conversation. Let's change that, shall we?
They've been cranking out quirky rock hits for nearly three decades now, and even their biggest critics can't dispute that Weezer began their careers with not one but two five-star albums in a row.
Given all that, it's reasonable to consider whether Rivers Cuomo and company might someday earn Rock Hall honors. Will Weezer be inducted into the Rock and Roll Hall of Fame? Here's our educated guess.
Weezer's Rock Hall Credentials
Making a Rock and Roll Hall of Fame case for Weezer is a bit complicated, so let's start with the easy part. The group made two extraordinary albums to begin its career – the self-titled Blue Album and Pinkerton.
Blue contains many of the band's biggest hits and most beloved album tracks – "Buddy Holly," "Say It Ain't So," "Surf Wax America," and "Undone – The Sweater Song" among them. It was the only triple-platinum album of their careers. (I'm also partial to "Only in Dreams," which soars in the live setting, as the band tears down the song one instrument at a time to near silence, before building it back up to a euphoric peak.)
Pinkerton arrived two years later and was considered a commercial failure, producing only two minor hits on rock radio. The band withdrew and went on hiatus for a few years afterwards. But as time went on, the album rightfully earned a cult following.
On Pinkerton, Rivers Cuomo bared his soul in a way that rocks bands often did not, and fans connected with the personal nature of the lyrics. The introspective nature of songs like "Tired of Sex," "Why Bother," and "The Good Life" made the record a complete left-turn from the grunge of Nirvana and Pearl Jam that had been dominating rock music at the time.
Although emo bands had existed before Weezer came along, Cuomo and his bandmates played a role in shaping what became known as emo music and delivering it in a highly-digestible form to a mass audience. NME accurately observed that they "invented emo's melodic wing."
Whether music critics like it or not, emo and its related subgenres became hugely influential and popular in the late '90s and throughout the '00s and '10s. It cannot be denied that Weezer played a significant part in helping to craft the sound of that time.
In 2001, the self-titled Green Album revived their careers with "Hash Pipe," "Island in the Sun," and "Photograph," and they've been an alternative rock radio fixture ever since. While they've never made another album as cohesive and affecting as Blue or Pinkerton, they've continued pumping out infectious hits for more than two decades, including "Pork and Beans," "Troublemaker," "Back to the Shack," and "Feels Like Summer."
Other tracks worth noting include "Photograph," "Hold Me," and "Perfect Situation," all of which pair vulnerable lyrics with catchy hooks, and "The Greatest Man That Ever Lived," which finds Weezer cleverly imitating 11 different bands over the course of six minutes.
It's been fun to watch how rock critics' perceptions of Weezer have changed over the years. Many of Weezer's albums from the past ten years – Everything Will Be Alright in the End, Pacific Daydream, The White Album, OK Human – have gotten excellent reviews from the same journalists who often criticized the group's earlier work. I suspect that Rock and Roll Hall of Fame voters will experience a similar evolution if they take the time to listen to their music with an open mind.
Weezer made their chart debut shortly after Kurt Cobain's death, and they're still making hits in the 2020s. That's an incredibly impressive chart span.
The Case Against Weezer
Weezer only scored one Top 40 pop hit over the years. And they haven't necessarily had the greatest support from their peers, as evidenced by their lone Grammy win in the Best Music Video category ("Pork and Beans" in 2009.)
Critics and even some of Weezer's biggest fans turned on the group when they did attempt to go pop, particularly with the 2005 album Make Believe and its single "Beverly Hills." Just the fact that I chose the Make Believe album cover atop this article will surely upset some people. (Hey, I wanted to use a cover that features the current lineup, and Make Believe is the coolest-looking one.)
I don't care what anyone says – those who cannot enjoy the crunching riffs, talk box guitar solo, and chant-along chorus of "Beverly Hills," even as a guilty pleasure, must reconsider whether they have the capability for joy in life at all.
Raditude is another album that diehard Weezer fans strongly disliked. It's not among their strongest records, but even that one has some highlights, particularly the solid lead single, "(If You're Wondering If I Want You To) I Want You To." I will also defend the much-reviled "Can't Stop Partying," which some fans took way too seriously instead of enjoying it for the tongue-in-cheek guilty pleasure that it is. That track was worth it just to hear featured artist Lil Wayne rap, "It's Weezer and it's Weezy…"
The fact that many of Weezer's fans are torn between their love of the early albums and their indifference to the recent work is definitely a knock against them. That awkward dynamic was captured perfectly by Matt Damon and Leslie Jones in a 2018 SNL sketch.
Weezer's tendency to embrace their silly side will be a stumbling block in terms of earning Rock Hall induction. Who creates music videos with Fonzie, or the Muppets, or a bunch of YouTube celebrities? Who puts the guy from Lost on an album cover? These are things that "serious" rock bands don't do, so the Hall will have to lighten up a little and get over itself before it will consider Weezer.
I can picture Rock Hall voters asking themselves, "Do we really want to induct a band that released The Teal Album?" That 2019 effort almost seemed like it was made specifically to infuriate rock critics. Aside from covering Toto's "Africa," Weezer offered up a dozen covers that nobody was yearning to hear, from "Take on Me" to "No Scrubs." While some fans shrugged off the album as Weezer showing their endearingly cheesy side, it certainly gave the haters another reason to pile on.
And then to make things more ridiculous, Weezer enlisted "Weird Al" Yankovic, of all people, to star in the "Africa" video. Actually, come to think of it, the Yankovic cameo may be the only thing about the Teal Album cycle that critics didn't hate.
So, yeah, Weezer have made some missteps over the years that will give voters some pause. But if the Rock Hall is going to induct Weird Al – and they absolutely are going to induct Weird Al – then surely they can excuse the silliness of "Beverly Hills" and the Teal Album to induct Weezer as well.
The Verdict: Will Weezer Ever Get Inducted Into the Rock and Roll Hall of Fame?
The prediction here is that, based on their extensive track record of chart success and their legacy of influencing the emo and rock bands that came after them, Weezer will eventually be inducted into the Rock and Roll Hall of Fame. When it happens is anybody's guess.
The fact that Weezer's name doesn't even get mentioned in the Rock Hall conversation right now is not a good sign. It will likely take at least another 10 years before the guys are seriously considered.
That said, I have to believe Weezer will get in someday. It's not logical that the Hall could exclude a rock band with such a lengthy track record of success spanning four decades. There's very little precedent for that sort of thing.
Most of the other hitmaking rock bands who were ignored by the Hall for years eventually got inducted (Doobie Brothers, Journey, Bon Jovi, etc.) The same will happen for Weezer… way in the future.
And how glorious would it be if Weezer perform "Beverly Hills" at the induction ceremony just to tick off their critics?
Rock and Roll Hall of Fame: Weezer
Odds of Getting Inducted Next Year: 2%
Odds of Getting Inducted in the Next Five Years: 15%
Odds of Getting Inducted Eventually: 65%
Click to read more Rock and Roll Hall of Fame predictions in our "Will They Get Inducted?" series!