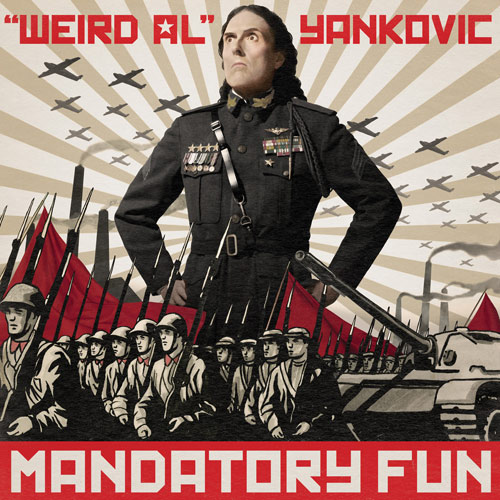 "Weird Al" Yankovic: Rock and Roll Hall of Fame Facts
Eligible Since: 2005
Finalist: Never
Grammy Awards/Nominations: 5/16
Career Top 40 Hits: 4
Essential Tracks: Eat It, Yoda, I Lost on Jeopardy, Dare To Be Stupid, Fat, Smells Like Nirvana, You Don't Love Me Anymore, Amish Paradise, Trapped in the Drive Thru, White & Nerdy, Word Crimes
Essential Albums: UHF (1989), Off the Deep End (1992), Running With Scissors (1999), Straight Outta Lynwood (2006), Mandatory Fun (2014)
At one time, it would've been ridiculous to suggest that "Weird Al" Yankovic might get inducted into the Rock and Roll Hall of Fame. He was viewed as a novelty performer with a few fun, silly hits, but nothing more.
However, in recent years, particularly after his 2014 album Mandatory Fun made history by debuting at #1, the general public and the critical community seem to have come around to recognizing that Yankovic is a brilliant writer and performer who deserves a place in any conversation about the best pop artists of the past few decades.
Weird Al has commercial success, critical acclaim, and he's influenced just about every comedian and many straightforward rock singers as well. In my eyes, he's undoubtedly worthy of Hall induction. But will it happen? Will the organization that tends to favor dead-serious hard rock acts find a place for an accordion-playing comedy singer?
Let's run down Al's credentials and consider whether Rock Hall voters might find a place for the prince of pop music parody.
Weird Al Yankovic's Rock Hall Credentials
Five Grammy awards, including three Best Comedy Album wins. Ten platinum or gold albums. Top 40 hits in four straight decades. A #1 album more than 30 years into his career.
Many people are surprised to learn how commercially successful Yankovic has been. His sales and chart performance exceeds that of dozens of lesser-known artists who are already in the Rock Hall.
His list of noteworthy parodies is nearly endless. "My Bologna" was the one that first got him a record deal. "Another One Rides the Bus" was another minor hit. "Eat It" put him on the map in a huge way, winning a Grammy and reaching #12 on the pop charts. "I Lost on Jeopardy" and "Like a Surgeon" were MTV hits, and then "Fat" came along to become another smash.
"Smells Like Nirvana" revived his career in 1992, and the Coolio spoof "Amish Paradise" did the same in 1997. Although neither parody officially cracked the Top 30 (due to Billboard's weird, ever-changing chart formulas), both rank right up there with "Eat It" as the biggest smashes of Al's career in terms of radio and video play.
"White & Nerdy" and Straight Outta Lynwood in 2006 gave Yankovic the first Top 10 single and Top 10 album of his career. And then came Mandatory Fun in 2014, with its historic #1 debut. While lead single "Tacky" featured a cool one-take video, it was Al's Robin Thicke parody / grammar dissertation "Word Crimes" that peaked at #39, giving Yankovic a Top 40 single in four straight decades.
Yankovic plays multiple instruments, notably the accordion. While that might not be the most respected instrument in rock music, he's made it his own. In fact, if you ask random people to name someone famous who plays the accordion, chances are Yankovic would win the poll. He also plays keyboards in his live show.
In addition to the big hits, Yankovic's catalogue contains tons of forgotten gems, like "Here's Johnny," a Johnny Carson-themed parody of DeBarge's "Who's Johnny"; "(This Song's Just) Six Words Long," a brilliant sendup of George Harrison's "Got My Mind Set on You" that might be the most meta song about songwriting ever; the Tiffany parody "I Think I'm a Clone Now," which was way ahead of its time; and "Confessions Part III," a completely nonsensical sequel to Usher's hit song that finds Al beautifully layering R&B harmonies and sexy whispers while belting out inane confessions like "I killed your goldfish accidentally / Just replaced it with another one."
Also worthy of mention is "Trapped in the Drive Thru," Al's 11-minute mockery of R. Kelly's "Trapped in the Closet." Knowing there was no way he could make his parody more ridiculous than R. Kelly's opera, Al wisely went in the opposite direction, creating an impossibly emotional and dramatic tale about the mundane task of waiting in line at a fast food place.
And I haven't even mentioned Yankovic's original songs and his iconic polka medleys. Being able to rattle off the names of several favorite Al originals has almost become the sign of a true music pop music fan. My faves? "You Don't Love Me Anymore," "The Night Santa Went Crazy," "Trigger Happy," "Frank's 2000" TV," "Germs," "One More Minute," "Don't Download This Song," and "Albuquerque."
There's another reason Weird Al should be inducted into the Rock Hall: He's one of the most prolific and successful music video artists in history. That's a big deal. Music videos dominated popular culture in the '80s and '90s, and Al was right there on MTV year after year.
The "Like a Surgeon" video is an underrated gem. It's still hilarious watching Al wearing scrubs while writhing around on the hospital floor. "Smells Like Nirvana" is essentially a shot-for-shot remake of Nirvana's grunge hit, with the added comedic benefit of seeing the janitor play tuba and the audience play kazoos.
Nothing is funnier than Al's face surrounded by a sphere of rotating toilets in the "One More Minute" video when he declares, "I'd rather clean all the bathrooms in Grand Central Station with my tongue / Than spend one more minute with you."
"Amish Paradise" has some fantastic little details. The way he mocks L.V. with the sweat running down his face. The way he starts churning the butter much faster when an attractive woman walks past. And that final scene with the horse buggy going in reverse, which boggles the mind until you realize it was shot backwards.
If you were to name the most influential music video artists of all time, you'd have to mention Michael Jackson, Madonna, and Prince above everybody else. But Weird Al is absolutely in that next tier of artists that includes Janet Jackson, Lady Gaga, Beyonce, Peter Gabriel, Tom Petty, Britney Spears, Kanye West, OK Go, and REM. Al is definitely a top 20 artist all-time when it comes to music videos.
Other important criteria for Rock Hall induction include: whether the artist has industry-wide respect, and whether he influenced a significant number of artists who came after him. Weird Al checks both boxes.
Comedians and actors like Jimmy Fallon and Lin-Manuel Miranda have expressed their admiration for Yankovic. Even rock band Portugal. The Man, who featured Al on the 2020 alternative song "Who's Gonna Stop Me," and Roots drummer Questlove have cited Yankovic as an influence.
And we know that Yankovic has the respect of his peers. That's been demonstrated by his Grammy wins and the kind words from the artists he has parodied. Both Kurt Cobain and Michael Jackson were big fans of Yankovic's work. That should seal the deal in terms of Weird Al's Hall of Fame case.
There's not another artist alive today who can capably shift from gangsta rap to heavy metal to dance-pop the way Yankovic does. The astute, modern music fans who listen to all different genres appreciate Al's versatility. Some of that credit should go to his talented band, which has been with him for nearly 40 years: drummer Jon "Bermuda" Schwartz, bassist Steve Jay, keyboardist Ruben Valtierra, and Grammy winning guitarist Jim "Kimo" West.
There's no corner of popular culture that Weird Al hasn't touched. He had a Saturday morning kids' show, appeared on The Simpsons and in all three Naked Gun movies, served as bandleader on Comedy Bang Bang, had cameos on 30 Rock and How I Met Your Mother, wrote a best-selling children's book, directed music videos for the Black Crowes and Ben Folds, and starred in Weezer's "Africa" video.
The 2022 release of Weird: The Al Yankovic Story, the parody biopic starring Daniel Radcliffe, is yet another major pop culture achievement for Al and adds more juice to his candidacy.
Those film and tv accomplishments may not directly impact Weird Al's Rock Hall credentials, but they provide an added intangible benefit because they made "Weird Al" Yankovic a bigger star than he otherwise would have been, and star quality surely counts for something.
And let's not forget about his 1989 film UHF. The movie bombed but has since become a cult-classic, and its soundtrack is one of the more underrated Al-bums, closing with the perfectly-mimicked REM parody "Spam" and the goofy singer-songwriter tale "The Biggest Ball of Twine in Minnesota."
The Case Against Weird Al
Given his commercial success, influence, and longevity, the only possible argument against Weird Al's Rock Hall induction would be a question of quality. Some voters may simply think his music isn't good enough. They may cite the fact that all of his hits were parodies of existing recordings, meaning that he only had to rewrite the lyrics.
But voters should recognize that those lyrics were creative and funny. Call me crazy, but I maintain that the "Amish Paradise" line "Tonight we're gonna party like it's 1699" and the "It's All About the Pentiums" insult "If I ever meet you, I'll control-alt-delete you," are lyrics that are as clever as anything Taylor Swift has ever written.
Some Rock Hall of Fame inductees, like Whitney Houston, barely wrote anything at all, so it shouldn't be a knock against Al that his hits were partially created by someone else. And remember that half of Yankovic's songs are originals, for which he penned all of the music and words.
Another legit critique is that some of Weird Al's early work doesn't hold up. That's true to a degree. You can leave "I Want a New Duck," "Gotta Boogie," and "Girls Just Wanna Have Lunch" off your Weird Al playlists.
None of Yankovic's original songs were hits. "You Don't Love Me Anymore" just missed the Hot 100. A Devo-inspired original, "Dare to Be Stupid," failed to chart, but has become one of his signature songs.
He also had a couple of albums that were commercial flops, most notably 1986's Polka Party! But that album is actually very solid, with on-point parodies of James Brown and Mick Jagger, plus several fun originals ("Christmas at Ground Zero," "Dog Eat Dog," "Don't Wear Those Shoes.")
On a couple of occasions, fate intervened to save Al from himself, like when the King of Pop denied Al's request to turn "Black or White" into "Snack All Night," thus forcing Al to wait for another parody target, which ended up being Nirvana. Similarly, when Atlantic Records wouldn't let Al release his James Blunt parody "You're Pitiful" as a single, he instead went in a different direction and created his signature song, "White & Nerdy."
"Snack All Night" and "You're Pitiful" would've been poor lead singles. Their replacements were far superior. The same goes for "Chicken Pot Pie," the proposed "Live and Let Die" parody that Paul McCartney thankfully nixed. The world really didn't need another food parody at that moment in time.
But this is nitpicking in a career that has been incredibly consistent. Can you name a single artist that doesn't have a few duds in their catalogue?
On one hand, the Hall may be reluctant to consider a "novelty" artist, because they might feel that if they induct one, then they're stuck having to induct others from that same niche. But there really is nobody else in this niche. Weird Al is the most successful pop music parodist in history. He stands alone.
The Verdict: Will Weird Al Yankovic Get Inducted Into the Rock and Roll Hall of Fame?
More than a decade ago, there was a campaign to get Al a star on the Hollywood Walk of Fame. Some laughed off the idea, and it wasn't taken seriously at first. But eventually, Al got his star. Expect that same pattern to hold true with the Rock and Roll Hall of Fame.
Before 2014, I would've put Al's long-term Rock Hall odds at 50-50. But the Mandatory Fun album cycle proved to be career validation for "Weird Al" Yankovic as an artist. Earning a #1 record and having so many respected comedians and musicians give him public accolades made it clear that he has become a national treasure. His status as pop music icon is cemented.
It's now extraordinarily likely that Weird Al will ultimately earn Rock Hall induction. I'd bet any amount of money on it. However, he won't be seriously considered in the near future. His honor may not come for another decade or two. It might to have to wait until Al is in his 70s and is viewed as the adorable elder statesman of pop music.
Eventually, maybe in 2037 when he has a viral hit parodying the latest single by the hottest superstar in pop music, Blue Ivy Carter, Rock Hall voters will wake up and realize, "Whoa… all those Grammy awards… all those album sales… that incredible longevity… and he's such nice guy. It's time to give Weird Al his due!"
Rock and Roll Hall of Fame: "Weird Al" Yankovic
Odds of Getting Inducted Next Year: 2%
Odds of Getting Inducted in the Next Five Years: 12%
Odds of Getting Inducted Eventually: 80%
Do you think Weird Al will be inducted into the Rock and Roll Hall of Fame someday? Leave a comment and let us know!
Click to read all the articles in our "Will They Get Inducted?" series!
Last Updated on October 12, 2023